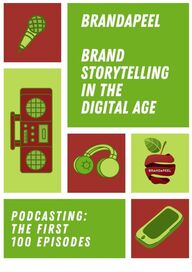 Return to flip book view
APeeling Podcasting
Page 1
Page 2
Tap the Image for the section you want to go PODCASTINGBRANDINGWRITINGPersonal
Page 3
Tap the Image for the section you want to go MARKETINGPROFESSIONALS &BRAND SORIESCAREERS
Page 4
Page 5
. I shPublisher: MarketAPeel Editor: Shanon PeelDesign: Shannon PeelWriter: Shannon Peel939 Homer Street Unit 411 Vancouver, BC V6B 2W6 shannon@shannonpeel.comCopyright 2022 MarketAPeel. All rights reserved. No part of this magazine may be reproduced into any information retrieval systems without the written permission of MarketAPeel. The publishers are not responsible in whole or part for any errors or omissions in this publication. All opinions and views are those of the writers and not of the publisher.ISSN: TBDThis issue of APeeling is the story of the podcast BrandAPeel: Brand Storytelling in the Digital Age and the journey to post 100 episodes in 100 days.
Page 6
Page 7
Shannon'sThoughts The last 100 days has been quite theadventure as I challenged myself to post100 BrandAPeel podcast episodes in 100days, and then threw this magazine intothe challenge on day 95. As a one womanshow, it all lands on me. As they say there is no rest for thewicked, as soon as I hit publish, I will needto start the promo engine and prepare fora presentation I am giving to a PR Associ-ation about Brand Storytelling. The rst ofmany, I hope as I change what MarketAP-eel is and what I do. The last three months was an adven-ture and an opportunity to learn from brandstorytelling experts. I talked with a formereditor of the Wall Street Journal, GlobalCEOs, and individuals who did interestingthings in their lives. If you want to learn howto create an appealing life, career, or busi-ness - this issue will be a good resource. This APeeling issue is a culminationof the people I met, the stories we record-ed, and the lessons I learned. Inside, youwill nd 6 sections to help you nd the sto-ries you want to listen to. There are articlesabout podcasting and brand storytellingalong with lots of tips, ideas, and advice tohelp you create an appealing life, career, orbusiness. APeeling issues are going to becreated based on topic AND they will bedynamic, meaning I will be adding to themwhen I create something on the topic. Fu-ture podcast episodes and articles aboutpodcasting will be added and consistentlypromoted to audiences interested in pod-casting. All future APeeling issues will be cre-ated this way. If you want to know when thenext issue will be out or what topic is beingcreated – Make sure you join the MarketAP-eel community – MarketAPeel Membershipis free. This issue also has a report errors,request changes, and feedback form. Tolearn more about it, about the last 100days, podcast guest application, and theanswers to questions you have..Click the green peel.

Page 8
Page 9
Play Bingos to WINPlay Bingos and win prizes while learning about Brand Storytelling - Tap on the squares to discover what you need to nd or do to check the box. Prizes range from downloadable books, social media content, Webinar tickets, coaching, journals, and more.Click the Logo above to learn more and to join the game. Download your Bingo sheet Tap the Squares
Page 10
Page 11
First Things First...Create an App on your Mobile Device and Desktop to easily access this issue of APeeling. What You Need to Know...To listen to podcast episodes, click the BrandAPeel LogoTo read the full articles click the MarketAPeel logoThe BrandAPeel Brand Storytelling in the Digital Age Podcast is available on your favourite podcast player.Click device to learn how
Page 12
Page 13
What Makes a Podcast Good? My son encouraged me to start a podcast, he thought I'd be good at it. I'm glad he did because I am having fun. Finding a couple podcaster guest matchup sites made it a lot easier to book interesting people to talk to. When I put my podcast on the sites, I wasn't expecting much because I thought, who would want to talk to me? Turns out almost 100 people right off the bat, which led to the 100 pod-cast episodes in 100 days challenge. I've almost completed 100 epi-sodes in 100 days and talked with over 70 people, now what? It is important to understand why people choose to try a new podcast, even more important is to know why they follow a podcast and become fans. If a podcaster wants to build an audience, then they need to create what people want to hear and the only way to know what makes people keep tuning in, is to ask. Podcasts are easy to create and communities around podcasting have sprung up giving life to this form of brand storytelling. This medium is becoming more popular, and more people are jumping on the bandwagon with varying results. What makes some podcasts popular while others struggle to even get their mom to listen? I wanted to know so, I dove into the Information highway and asked people, "What makes a podcast good?"
Page 14
Know The Audience The demographics of an au-dience is the most important part ofstorytelling. You must know who youare talking to before you craft the story.Once you understand whom you wantto talk to, you can determine the tone,voice, content, and structure of yourstory. This is not easy and at times youwill need to reassess the audience asthe people who show up can be differ-ent from those whom you intended tobe in the audience.Who Listens to Podcasts? The largest percentage of lis-teners are under the age of 35. While86% of people aged 12-34 listened toonline audio at least once in the lastmonth, only 42% of over 55s said thesame. (1) When choosing the topic ofyour podcast consider where in thecycle of life your audience is experi-encing. Are you wanting to mentor andteach people, or do you want to enter-tain people? If you want an older audi-ence because you're talking about theempty nest or saving for retirement, apodcast is still a good idea. There may be less people overthe age of 50 listening, but if you canconnect with them by talking aboutwhat's important to them, you have abetter chance at building an audiencethan if you tried to appeal to everyone.Isaiah Henry, the CEO of SeabreezeI'll keep listening to them because they eithermake me laugh or provide valuable informationthat I can apply to my own day-to-day life.Robert Welch, CEO of Projector1To make the most captivating digital recording,your point ought to be something that you arelearned and energetic about. The web recordingyou go with ought to be explicit and interesting toa wide crowd. For example, assuming you pickthe subject of cooking, you might have manyother web recordings to contend with. Assumingyou pick more explicitly vegetarian cooking,you will limit the web recordings you rival. Whileyour potential audience shrinks, you can moreproperly focus on the right audience membersand observe committed audience memberswho are invigorated that their specialty is beinginvestigated.

Page 15
Lisa Odenweller, CEO of Kroma WellnessFor me, a great podcast has to offer a fresh per-spective on something. A podcast I've been listen-ing to recently, The SelfWork Podcast, has helpedme to gradually change my relationship with workculture and productivity. I'm very compelled by apodcast that can combine the intimacy of personalnarratives with the authority of professional ad-vice. These are the podcasts that can draw me infor the long haul.Why do People Listen to Podcasts? Over 74% of those surveyed byedison research said the main reasonthey listened to podcasts was to learnsomething new. Other reasons peoplegave were, to be entertained and stay-ing up to date. (1) Evergreen contenthas the best chance of being listenedto because people can listen to it to-day, tomorrow, and next year and feelthey learned something new.Karl Hughes, the CEO of Draft.dev,I stick around because I know I'm gonna learnsomething completely new every week. And thehost's sense of humor and spirited inquiries are abreath of fresh air.Maria A. McDowell of EasySearchPeopleI've got an eclectic taste in podcasts. Most ofthe podcasts that I listen to are podcasts thatteach me something. I love learning new things,so I'm apt to listen to a podcast that's teachingme something I didn't know before. This can beanything from how to build a car to how to writea good book. But I also love a good story. If I canget a good mix of a story, personal brand, and aninteresting episode title, I'm more likely to listen tothat podcast.Ravi Parikh, CEO of RoverPassI especially enjoy podcasts that have somethingto teach me - even more so if they offer me otheravenues to learn even more about the topic theycover.
https://kromawellness.com https://easysearchpeople.com
Page 16
Which Genre is Best? In the US, 22% of respondents toa Statista survey about podcasts saidthat comedy was their favorite type ofpodcasts to listen to. Worldwide, thenumber one genre is Business. (2)How funny are you? Podcasts are agreat medium for stand-up comediansto use for engaging their audiencesand testing their routines. Joe Rogandid start off as a comedian beforebranching out as an interviewer andhost to celebrities and popular thoughtleaders.Trevor Larson, the CEO of NectarUltimately, the key is nding content that trulyinterests me and keeps me coming back for more.Whether that's in the form of a funny comedypodcast or an informative news show, it's all aboutnding the content that clicks with me and keepsme engaged.Where do People Listen to Pod-casts? When it comes to where podcastlisteners like to consume their favouriteepisodes, 90% of podcast listeners saythey listen to podcasts at home. 64%tune in while they're in the car, 49%listen while they're walking, 43% at thegym or while they're working out, 37%while they're at work, and 37% on thecommute or while using public trans-portation. (3) People are listening whilethey do other things, its backgroundnoise. The amount of time they haveto listen to an episode is determinedby how much time it takes them to dothese activities. Think about how youcan offer value to someone.Play Bingos to WIN
https://nectarhr.com
Page 17
Brian Donovan, CEO of TimeShatterA good podcast is this generation's version of agood radio show. It needs a clear brand identity,a compelling human element, and an angle thatdifferentiates it from similar offerings in the mar-ket. My choice to follow or not to follow a podcastcomes down to one simple question: does thisadd value to my free time? If the answer is yes,I'm a follower for life.Melanie Anderson of Loopy Little LettersI have several podcasts saved in my favorites, butI always go back to the same two or three. Theconnecting theme is that I learn something new,am inspired, and walk away with actionable ideasof how I can improve my life. It also helps if theyare under an hour.How Many Podcasts are there? It can be hard for a new podcastto attract an audience because thereare almost 2 million podcasts (only700 000 are active) and over 47 millionpodcast episodes online. (4) With Theaverage number of podcasts, a regularpodcast listener listens to is six, and30% of hard-core listeners listen to sixor more. (1) To get them to switch outone of their regular podcasts shows foryours is the goal and why you need tomake sure what you produce is betterthan what is already available.
https://www.timeshatter.com https://loopylittleletters.com
Page 18
Many podcasters shell out a lotof money and have teams to help themproduce high quality shows. Which iswhy the sound quality, and the soundof your voice, is important. If you havea nice voice, it may be the reason yourpodcast is chosen as someone's fav.Stefan Smulders at expandi.io I'm also very picky in terms of audio quality, I justcan't follow a podcast that has just started be-cause most of the time the audio is terrible (un-derstandable, but I still don't like that).Max Shak Founder Survival Gear ShackI want the podcast to be of high production qual-ity. My point is that some of the pods I listen tohave terrible production quality (Big Ego Tapes,I'm looking at you) but they have such interestingcontent that I can overlook it.Is the Host Interesting? Are you the right person to hosta podcast? There is a lot more to pod-casting than just talking into a micro-phone. You must have something tosay, speak with authority, be energetic,and a varied tone. Unless the point isto sound like Buler's teacher. "Buler…Buler… Buler…" Listen to some of thepodcasts in your genre to hear howthey sound and then gure out howyou can up the bar.Emma Gordon, of USSalvageYardsWhen I am listening to a podcast, I decide wheth-er to follow or not depending on how catchy orenthusiastic the voice of the host is. I could alsodecide to follow if the podcast is full of valuableand helpful content. If the host has a good accentand is audible, it is a plus.WHY DO YOUCHOOSE O OLLOWA POCAST?Click the logo to answer the question.
https://expandi.io https://survivalgearshack.com https://ussalvageyards.com
Page 19
Angela Hathaway of The Fit Pro VAWhen I nally choose something to listen to, I payattention to their speech. It's sounds petty, butspeakers who are too slow, have vocal fry, anduse too many ller words are an automatic skip forme. I like podcasters who are eloquent, get to thepoint, and allow their guests to tell their stories.Harry Morton Founder at Lower StreetWhat gets me to become a fan or ongoing listenerof a podcast is the quality of the host: 1. Do theyask good questions? 2. Do they allow their gueststo speak and not interrupt? 3. Do they stay fo-cused and not ramble or waste time?What Do You Talk About? Connecting to an audience youcan't see isn't easy and talking to our-selves feels odd. When you tell a storyand address the listener by askingquestions you don't answer but givethem something to think about canhelp connect you and the audience. Over 27% of new podcast listen-ers will abandon a podcast if it doesn't"hook" them within the rst 5 minutes.Almost 28% will keep going until 15minutes before they stop listening andaround 22% will listen to a whole epi-sode before deciding if they're going totune in again. (5) Make sure you polishthe beginning and hook them in quicklyby creating curiosity, hitting them withsomething big, or letting them knowwhat's coming in the episode.Jessica, Marketing at TeamUpAs a listener I feel that I am being spoken to, notspoken at. I think a lot of podcasts miss the markwhen they are focused on sharing their personalopinions about things, rather than engaging withtheir audiences and trying to formulate opinionsand ideas that their audience would connect with.Vishal Dave, SEO content at MeetanshiI love listening to a podcast that is easy to under-stand and digestible. Difference-making criteriabetween a good and a bad podcast is the clarityof the topic.What about the Structure? Storytelling works because it hasstructure, a beginning, a middle, and anend. Audiences know what to expect andcan follow what is going on without havingto put in too much brain power. When youare talking or interviewing a guest are youjust letting it go all over, or do you guidethem through a structure of beginning, mid-dle, and end?
https://www.linkedin.com/in/angelashathaway/ https://lowerstreet.co https://meetanshi.com
Page 20
Ellie Walters, CEO of FindPeopleFasterPersonally, a good podcast must have some ofthe following: an engaging introduction is my tasteof a good podcast, I always go back to channelsthat start their podcast with introducing the topic ina question-like manner to get the listener engagedin trying to gure out an answer for him/herself.sometimes, repetition on a podcast can be anasset and if there is a time to do it, then i prefer tohear it at the beginning.Jordan McAuley, of Any Celebrity"There are so many podcasts today, I only listento ones that get right into the story. No offense,but I don't have time to listen to small talk withyour co-host, what your kids are up to, what yourvacation was like. Just get right into it."Lindsey Allard CEO of PlaybookUXThe production must be quality and the hostsmust know what they're doing. I'm not interestedin listening to small talk about the hosts, what theyare doing, or a ton of ramble about nonsense.Get to the meat of the conversation, make sure itsounds professional, and give me a solid amountof information per minute.What About the Guests? Guests can help you build youraudience because they will share theepisode with their audiences, and yougain a fan or two. The quality of theguest matters, along with the soundquality of their equipment. Even if theyhave the most interesting story, if theysound like nails on a chalkboard, youraudience will stop listening. If it hap-pens too often, they may stop followingyou altogether.Robert Puharich, Assoc Producer ofSpecied Growth PodcastThe ability to bring in other experts is a signicantfactor. Those with a network of successful peoplein a particular area get my attention. Podcasts thatget it right are asking good questions, allowing thespeaker to work through their ideas, and askingfurther good questions to really dive into a topic.When I listen to experts, I really like to understandwhere they are coming from on their ideas, andgood podcasts get these ideas out.MARKEAPEEL MEMBERS RECIEVEE-NEWSLETERS WITH NEWBRANDAPEEL EPISODES
Ellie Walters, CEO of FindPeopleFaster https://contactanycelebrity.com/cac/celebrity-pr-summit/ https://www.playbookux.com https://tatstalks.com/
Page 21
James Green, Owner of Cardboard CutoutsFor me, it's about the content and the interactionof the host(s) with the guests. Podcasts havebecome a valuable information source for manypeople, so if the podcast is providing solid infor-mation in an entertaining way, then they're de-nitely doing something right.Lucie Chavez CMO of RadarisI choose my podcasts by the shows that providecontinuous value to me, have engaging guests,and keep me wanting to come back.Nothing else is important to me other than whatI can learn in each episode and the value it pro-vides me. If they can do that, and I feel like it'sworth my time, I keep coming back.What I Learned I learn the hard way – I do thework and gure it out for myself in-stead of researching, reading, andlistening to nd out how to get where Iwant to go faster with less headaches.That might be why I have such a head-ache today – and here I thought it wasall the eye strain from hours on end ofscreen time getting everything done ontime. I was overwhelmed by peoplewanting to talk to me that I pretty muchtalked to everyone. Most people weregreat, but there was the odd personwho sounded so tinny and had onlyone thing to say that no matter howmuch editing I did, I just couldn't usetheir episode. I ended up spending lots of timeon editing for several reasons, poorspeaking quality of a guest, the soundcoming through from their side of theconversation, or long ramblings ontotangents that didn't matter to the coremessage. The great thing about edit-ing is that I learned which ller words Iuse and have gotten better at speakingbecause of it. I have gotten BrandAPeel: BrandStorytelling in the Digital Age off to ahuge start with 100 episodes to pro-mote and organize. Now all I need arelisteners and your feedback to help meimprove. I need your help to get the wordout by sharing this magazine withsomeone you think would be interest-ed in learning how to tell their brandstory to the marketplace to connectwith their audiences.
https://cardboardcutouts.com https://radaris.com
Page 22
How to be a Podcast Guest
Page 23
Meet Jason Cercone, PodcastGuest Coach & Trainer Cercone ConsultingWhat do you do? I am a creative professionalwho specializes in podcast guestmarketing and podcast guestoptimization. I've been podcastingsince 2015 and working with otherprofessionals in the podcast spacesince 2019. I provide training andeducation that helps professionals inall niches become optimized podcastguests and maximize their efforts asa value-driven guest. I also providecoaching on podcast creation, withemphasis on proper mindset, settingrealistic expectations, and focusing onthe fundamentals of being a qualitypodcast host. I am also a podcaster. I hostEvolution of Brand, a weekly podcastfeaturing authentic entrepreneursand professionals. Each episode is acombination of inspirational stories andtactical strategy so listeners can gainwisdom from those who've taken theirbrands to the next level and consumetips they can apply to their ownpractices.What is the denition of the wordBrand? Brand is who you are, what youdo, and how you will be a valuableresource to others. This applies to thebrand you build for your company,as well as your personal brand. Yourbrand puts the people in the seats andkeeps them there!Which brand gets the brandawareness part right? Wendy's. Their Twitter presenceis outstanding, and they weren'tafraid to endear people to their brandthrough sarcasm and snark. That levelof humor has made their presencetranscend fast food and put them ona level that even people who don'tregularly eat fast food can get valuefrom.Click the green logo to read Q&A interview(it is different from the podcast interview, whichyou can hear by clicking on the red peel logo)
https://jasoncercone.com/brandapeel/
Page 24
Page 25
BookAPeelClick Images for Details
Page 26
Page 27
Why People Choose to Listen to a Podcast Being a podcaster isn't easy. It's a lot of work. And I don't just mean the booking, interviewing, and editing – Trying to get people to take notice and give you a chance by listening to what you have created is time consuming and like a slow leak in a tire, can leave you feeling at. Which is why so many podcasters quit and go onto doing something else, like social media marketing, that is less time consuming with quicker results. Now that I have well over 100 podcasts, I decided to gure out why people choose to listen to some podcasts and pass others by. Yes I know, it's a little backwards but hey – at least I nally got to researching the podcast listener market and what catches their attention. I put out a query and recieved over 30 responses about what catches their attention. If you have a podcast and want to know what to do to get people to click and give it a listen, grab a pen, paper and Click the Green Logo
Page 28
The Topic Matters Can Burak Chief Creative Officer at 2FRESH I choose podcasts by subject I m interested in marketing advertising hospitality photography psychology etc genres So I pick podcasts accordingly Within the genre I developed a taste for podcasters over time So I have preferences based on podcasters I also prefer appealing titles from an unfamiliar podcaster It s a great excuse to discover a new channel I m subscribed to few pod casts but if the title doesn t catch my attention I might skip Scott Bihorel of Columbia and Beyond I ve typically found my favorite podcasts by searching for my interests e g linguistics music or celebrities I like e g Will Ferrell Conan O Brien I ll usually give a listen to the first few that pop up in the search results If the content is engaging informative and or funny in addition to having a good production value that s usually enough to win me over If it s boring or has poor production and audio engineering I ll move on to the next one Clicking on this icon
takes you to
the index
Page 29
Page 30
Page 31
you a good idea about what you re about to listen to without being too verbose Vishal Dave Content Writer at Meetanshi com Graphics can indeed contribute to how listeners perceive the podcast at first sight Yet it is not the most important fac tor for me when creating my podcast playlist I shortlist the podcasts based on title graphics and host anchor and listen to an intro of each of them to find it whether they are easy to understand and good for me or not Audio quality is also an important thing I consider while creating the playlist Clicking on this icon
takes you to
the index
Page 32
Page 33
someone I follow or if someone podcasts to dive into podshares the show caster voice engaging topics and sufficient credentials by Shane McEvoy Managing dithe experts speaking to me rector Flycast Media A good podcast has a soothing easy to listen to host It will I listen to a lot of podcasts have a broad catalog of topmostly in the gym or on my ics to choose from and it will commute to work The main harness a consistent voice and way I find new podcast series purpose to listen to is when the new podcaster has been a guest on Anna Lan CEO and Founder an episode of something I cur of UBackdrop Inc rently listen to So for me it s not about Entrepreneurs like me are personal brands or good eager to learn new things but graphics it s mostly about don t have the luxury of time whether I found them interest By listening to podcasts we ing and informative the first learn new things and discover time I heard them new ideas and strategies that we can apply to our business or even daily lives A good podGuests Matter cast I believe should Have different guests weekly The more people invitNick Mueller Director of Operaed to a podcast the more new tions HawaiianIslands com knowledge we can learn Every person has different experienc There are a few key things es which can benefit listeners I listen for when choosing new like me
Page 34
Sergio Diaz CEO of Keynote Speakers Agency Emma Gordon the founder at USSalvageYards I listen to a lot of podcasts for personal and professional reasons The main reason I listen to a podcast is either A Who they are interviewing or B The catchy title I have chosen to listen to some podcasts because they have a great graphic design that matches the title of the podcast Another thing that catches my attention and makes me listen is the dramatic or catchy title Having a strong personal brand is another key reason why I listen to podcasts especially if it is recommended by someone Branding Matters Emilia Flores the Co founder at UKBadCreditLoans Robert Puharich of the Speci When it comes to podcasts fied Growth Podcast and music in general it s the graphic and personal brand The podcasts that have that draws me in While the grabbed my attention have episode title is important it s been from strong authoritative mainly the graphic and brand personal brands I believe in that keeps me listening When I people that have demonstratsee a good graphic and logo I ed a solid understanding of the m interested in what they have subject matter either through to say When I see a profession social media posts such as twital brand and a fun invigorating ter or content such as articles logo I know that I m going to The ability to bring in other enjoy what they have to say experts is a significant factor and want to listen Those with a network of suc
Page 35
cessful people in a particular area get my attention business person or thought leader I follow A storyteller that i find compelling Angela Hathaway a nomadic Sometimes I take a look freelance publicist at the description and recent episodes Interviews with per The first thing that makes sonalities I m interested in are me choose a podcast is wheth a great way to reel me in but er or not it s already a personal so is a compelling podcast deity I follow Are they a journalscription ist I read often An influencer
Page 36
Podcasting Brings Unexpected Opportunities
Page 37
When I started podcasting I was surprised by the number of small business owners thought leaders and marketing professionals who wanted to be interviewed on BrandAPeel Brand Storytelling in the Digital Age As I interviewed various professionals I noticed that podcasting brought unexpected opportunities podcast I still get the odd message through the site and it has a community which helps to stay engaged Recently I started to get more emails from people who had listened to my podcast and wanted to be a guest I must be doing something right if they think their time with me will benefit their brand story broadcasting efforts Where I found my Guests My Guests Taught Me Things I found most of my guests by subscribing to the PodMatch site a platform that matches podcasters with guests Another site I used was PodGuests a directory of people who are looking to be booked as guests on podcasts The requests for being a guest have become quieter now that I ve interviewed the bulk of the active people on the site looking to be guests on any In each interview I asked questions to dig a bit deeper and find solutions to problems I was having things I was curious about and to confirm I was doing something right During the process I was even offered a job it didn t work out but I did get an offer The podcast became a catalyst for me to meet business leaders small business owners and experts who were becoming thought leaders in their Clicking on this icon
takes you to
the index
Page 38
industries I was talking with people whom I never would have talked to otherwise and it gave me the socialization I needed to stay sane I didn t research guests I went in cold and it is a good thing because as I learned about who I was talking to if I d known ahead of time I would have been intimidated and the interviews wouldn t have been as natural I interviewed the CEO of Stewart s Enterprise Holdings which owns the Stewart s soft drink brand and Hard Rock Caf s drinks in a can I interviewed a brand storytelling specialist who had been an editor for the Wall Street Journal for ten years There was the guy who started HBO s Comedy Central TV Network and lots of others who had done some amazing things The best gift I received was being able to interview Anthony Gruppo about the lessons he s learned in his life and career He s had an interesting career living out on the edge pushing himself to see how far he could go He went all the way from New York to London as an International CEO for Marsh s commercial division He has a lot to teach those who want to climb the corporate ladder and be leaders people want to work hard for He is one of my favourite people in the world and it turns out I m one of his who knew I didn t until he told me on my 100th episode in my 100 episode in 100 days challenge Like I said it was a gift I wanted to know what opportunities podcasting offered others so I asked and here are some responses I received Opportunities as a Podcast Listener When I listen to podcasts its like there are people in the room with me instead of being alone I enjoy podcasts that teach me something about my industry so I first look for episodes about brand storytelling and digital publishing Once I ve exhausted that list I m off to find episodes that dive deeper into topics like history the world around us and stories of people over coming hardship to end up stronger on the other side By listening I get to learn and those who constantly are learning eventually succeed hey even if I don t at least I have a brain full of useless facts that enables me
Page 39
to have conversations with people of different walks of life Maria A McDowell the founder at EasySearchPeople A good podcast that has helped me in my life and career is the Entrepreneur On Fire podcast Hosted by John Lee Dumas this podcast gives me motivation and drive each day to become a better entrepreneur and achieve my dreams It s funny motivating and full of advice from successful business people like John Lee Dumas himself The best part of the podcast is how it s broken down into different topics and categories so you can find what you need to hear when you need to hear it Whether you re just getting started in business or have been there for a while there s something you can learn from this podcast
Page 40
who told 17 year old me that I d make a terrible journalist and I needed to consider a different career I don t know what I ll be asked Since growing an audience takes and it keeps my mind sharp to answer time and people get too busy to stay in questions on the spot I ve met some amazing people who are smart inter touch it is important to understand the esting and we just click in the time we longer term benefits of podcasting and the opportunities that may be coming had to chat It also helps me connect down the pipeline if you just keep with the right people as I seek out thought leaders experts and profes going When you are on your own it is difficult to know if you are any good sionals who want to tell their brand or if people even care about what you stories on MarketAPeel s platforms have to say Thing is if you take the attitude of needing listeners and monOpportunities as a Podcaster ey from it you ll quit Here are some opportunities As a podcast host podcasting is more labour intensive especially if you podcast hosts have experienced for themselves to help you stay motivated are like me and insist on editing the to keep going episode to get rid of as many uhms ahs stutters and stumbles as possiKrisztian Riez Digital PR Consultant ble before uploading to to the digital Condo Control podasphere Yes I just made up that Opportunities as a Podcast Guest word The opportunities for a host are multiple as I meet interesting people get to listen to their stories and ask them questions to draw out the ideas for listeners to take action on I love interviewing people Wish I could remember the name of the journalist I host a podcast and appear as a regular guest on many podcasts I think podcasting for me is another form of networking where you get to understand and give value to someone and their community and they will do the same The more value you bring
Page 41
to your listeners or to someone else s podcast the more networks you create which in turn I believe will drive more business to your company The goal for podcasting is value and keep giving value and not because so you can get business but because you want to help your audience or other audiences with the information insights and experiences you know I listen to about 10 different podcasts currently switching from one to another Sometimes what I will do is take what I like from one podcast I listen to and incorporate it into my podcast to bring more value for my audience I think it s a great way of learning how to become a better podcaster is by listening to podcaster that are already great and taking what they do great and creating something that works for you KacieWillis of Could Be Pretty Cool My entire career and in some ways my life was changed by podcasting after participating in the Spotify podcast accelerator I started a production company after being laid off from my corporate job in 2020 and have been pretty much doing podcasts full time ever since Gabby Ianniello host and Founder of Corporate Quitter A podcast and platform focused on ditching the 9 5 I quit my job and started my podcasting journey in April 2021 without much experience no following and not much of a direction and then everything exploded I went from a nobody to a somebody within 6 months having grown
Page 42
my following to 30k expanded my network globally and been recognized as a rising global leader after being featured in 30 media publications including the New York Times Good Morning America CNBC CBS Reuters and the New York Post Had I not started my podcast I would ve never built a globally recognized brand and been able to create an incredible community and new life that TRULY encompasses work life balance and just straight up joy Michelle Ngome Inclusive Marketing Consultant at Line 25 Consulting In 2014 I released my book Network Navigate Nurture while trying to find ways to promote my book I stumbled across podcasting After 3 interviews I launched my own podcast Networking with Michelle I managed this show for 5 years and it led to speaking opportunities clients my second book Success Undefined and a great network Being a podcast guest gives
Page 43
my brand credibility and me the confidence to believe in myself again I have been blessed to have people reach out to invite me on their show IsaacMashman Podcasting has led to so many opportunities in my life It is one thing to fake a post on Instagram but it is Rachel Lindteigen of Etched Marketing much more difficult to fake when you are recording a piece of content live or I love being a guest on podcasts in audio format I first started my podfor several reasons First it gives me a cast in 2018 and after launching my chance to meet someone else s audi current one have recently celebrated ence and help them recording over 100 episodes They Second if the audience are a way for you to get on the same likes me they ll often follow me on my playing field as public figures who are social media channels or request my normally out of reach have a tremenfreebies dous SEO value and can lead to other Finally a podcast will generally entities reaching out to you I myself link to your website or opt in which have been invited as an early creator gives you a good link and that helps on several learning platforms because your SEO of my show I ve built my website s Domain Authority my audience and sales RyanStewman of Break Free Academy through podcast interviews I actively pitch myself to podcasts that my Ideal I ve done right at 200 episodes 1 Customer would likely listen to and I per week since 2016 for my Hardcore try to accept any invitations that are a Closer podcast We ve had over 1M good fit downloads to that show and it grows Podcasting is a great way to every month My other show Rewire grow your business gets 100k new downloads per month and is on over 1 2M phones world
Page 44
wide It has over 1 000 active episodes and is my most popular work of anything I ve ever done As far as I know no one else has a daily 5 minute show like it That format has killed it for us Between the Hardcore Closer Podcast and Rewire my podcasts are on over 2 million phones worldwide Not a day goes by that I don t get at least 50 messages saying this ep isode changed my life Having the opportunity to provide people with that kind of value is a great feeling and has been a powerful motivator for myself as well as my business because at the end of the day I m here to help people become the best version of themselves and these podcasts have helped me do that very thing
Page 45
Joe Davies Founder SEO of Fat Joe Melissa Bright of the Bright Side of Life Podcast Podcasting led to some positive My life is completely different changes in my business career or life now that I am a podcaster I found I share the exact steps and formulas my passion grew into the person I that allowed me to become a success was supposed to become and have ful podcaster and how your success learned so many amazing things along can be measured on my podcast The my journey of interviewing my guests podcasting revolution is changing the A podcast that I listen to changed way we share information and connec my life because there was a guest on tion We have seen that listening to there that said how she found her purinspiring stories has offered us oppor pose and I followed her tips and did tunities to learn more about different the same thing for my own purpose topics and has even provoked changes in our lives FarzanAkhtar Jacquelyn Son marketing mentor astrologer of Glow Radio My podcast led to me being approached by a startup company looking for someone with expertise in a field I ve been hosting my podcast for that I had done an episode on I m in about 4 years now and have a ton of active talks with and them and am planpositive stories to share ning to support them with their work Since starting my podcast Glow soon Radio I ve been able to connect with Secondly my research for my many inspiring leaders and public figpodcast led me to identify an opportuniures even before I built a large following ty at work in a new piece of technology for the podcast Some previous guests Over a few months this culminated in on my show have included The Holistic our company winning 1st place in a Psychologist Boscia s co creator Lan competition using this technology and Belinky and Founder of Udo s Choice put me in a place as a SME in this area
Page 46
Ty Smith the Founder and CEO of Coinbound Hosting the Coinbound Crypto Marketing Podcast has provided key benefits to my personal brand and the agency s growth within the Web3 Crypto spaces When you post episodes consistently produce useful relevant content and build an engaged community around your podcast a single podcast can change your life Most recently I added my personal consulting link as well as a direct link to Coinbound s website to each of my podcast episode s descriptions on YouTube This has increased my inbound leads for both Coinbound and my personal Web3 consulting just by including two new links to the resources portion of episode descriptions Another benefit we ve seen is that by having great guests on the show I ve personally been able to learn a lot So posting educational content really goes a long way for my own knowledge as well as that of the listeners Opportunities as a Podcasting Support Robert Puharich of Teen Learner Listening to a podcast changed my career I was running a small e comm business and listening to the Specified Growth podcast about entrepreneurship as it had valuable lessons I learned a lot from the podcast and ended up communicating with the host As I was so familiar with the content and had many ideas for the show over time the host offered me a position with the podcast as an Associate Producer I am now in this position From this role I was able to grow and network which led me to another position as a digital marketing manager for another organization Listening to this podcast had a profound impact on my career I grew as a person and have found new positions Matthew Baltzell CEO Founder Elite Podcast Bookings I hosted the podcast Real Estate Journeys 114 episodes and have been on several podcasts Clicking on this icon
takes you to
the index
Page 47
My show is no longer in syndication but many opportunities have spun from podcasting 1 I ve created a podcast booking agency that places real estate investors on industry leading podcasts 2 Attracted investors for real estate deals Roger Nairn of JAR Audio We produces podcasts exclusively for brands The podcast we produced for Expedia called Out Travel the System Expedia wanted to be known as a more helpful brand and the podcast helped them get there Bra n d APeel I ve pulled the BrandAPeel podcast back to twice a week which is manageable and gives me the time I need to promote the episodes and give my guests the extra reach they deserve If you haven t read the APeeling Digital Magazine Podcasting Issue yet make sure you check it out and instal it on your device to read when you have time or to find an episode that looks appealing to you Until next time Peel Out Clicking on this icon
takes you to
the index
Page 48
J P Gaston of The Biz Dojo In late 2019 a friend and I started a podcast called The Biz Dojo We both had a passion for leadership and personal development and we had pretty unique and broad networks of interesting people between us So as an outlet for both creativity and just a thing to do during the pandemic we started the podcast Our networks had some incredible people including entrepreneurs professional athletes touring musicians etc So we got off to a flying start and we soon realized that with an interesting angle on the pod some good past guests and a little bit of strategic positioning we could land some bigger and bigger guests We ve now had TED presenters CEO s from major firms around the world UN Humanitarian award winners Olympians influencers prominent TV and Radio hosts and more Along the way we ve won multiple awards and have even been able to expand our podcast into a full service coaching and consulting firm fully incorporated in fact we ve even won awards for the coaching consulting we do So it s been a ride It s still a bit of a side gig though expanding rapidly Because we focus on personal growth both the act of hosting a podcast AND the content we create have had far reaching influence on me From my own personal wellness and development to my comfort reaching out and chatting with anyone really everything is just smoother I even started into this venture with 10 year s experience in radio broadcasting and I ve still taken a ton away from it It s helped provide me additional structure and to better understand the challenges of friends and family who are entrepreneurs I joke that I m an unintentional entrepreneur but it s certainly given me new perspective having to run a business of my own I really never thought I d be a CEO But here we are eeek I do also listen to podcasts and have for a long time They help me gather and consider new ideas and perceive the world in new ways I love a good podcast that has a bit of a storyteller vibe and learning more about our own self so really listening to another person s perspective has caused
Page 49
Podcasting Stories me to rethink my own perspective for much of who I am and what I do I even ended up starting up a second podcast to share some of what I ve learned in that space Now we help businesses around the world start podcasts or advance their leadership teams improve business models all from starting a fun little project just over a year ago We ve made some friends along the way picked up some incredible hardware and continue to grow If you do it right and if you re passionate about what you do and open to becoming a little better every day podcasting is an incredible medium Clicking on this icon
takes you to
the index
Page 50
Dr Naomi Murphy D Clin Psych of Octopus psychology I listen to a lot of podcasts but I also started a podcast Locked Up Living link in signature below with someone I barely knew during 2020 to cope with all the extra time that I found myself with What I love about listening to podcasts They introduce me to new ideas knowledge that I might not have happened across otherwise the discussion format can raise interesting potential that you wouldn t get from a book No matter what your interest you will find somebody knowledgeable talking about it on a podcast somewhere This includes access to v very niche content Many podcasts encourage audience s to participate in their community which mean you can get answers from experts on specific questions you d never get chance to ask Podcasts enable me to double up my time and use brain dead time productively eg whilst cooking stacking dishwashers What I love about podcast hosting I had no prior knowledge or skills in this area and am also a bit of an introvert so it involved putting myself outside my comfort zone by putting my voice out there Although me and my co host are a bit gauche I feel proud of some of the conversations we ve managed to have on the podcast with some amazing guests and have had brilliant feedback from total strangers Although we have had some pretty well known people on in terms of the forensic sector we ve also been able to platform people with something really important to say who might not ordinarily get much airtime because they re new researchers The forensic sector is a bit of a silo and tends to quash new thinking I ve always prided myself on being innovative and introducing new ideas to the services I ve led This gives me the opportunity to share innovation much further I ve focused on well being and it nourishes me to have conversations with very nice people sharing ideas drawn from positive psychology to try and inject some nourishment into
Page 51
a sector that can be quite harsh and cynical at times The podcast has been a great way to follow my own interests and create a CPD agenda that suits me and gladly enough other people Its been lovely to work with someone who was virtually unknown to me and create something from scratch with the autonomy to make it what we wanted Its been terrific for networking I ve been introduced to some terrific people this way and talking to people about something they re passionate about is a great way to form a connection I ve been invited onto many other people s podcasts and I think the podcast has given me visible credibility which has in turn brought me private practice patients and new associates who I ve shared really stimulating conversations with Most importantly its given me an awful lot to think about I ve appeared on many other podcasts as a consequence of co hosting Locked Up Living All of these conversations have been really enjoyable because they re often with people from very different sectors I ve been asked some really novel questions that at times have made me look at things a bit differently Podcasting community is also friendly and welcoming and encouraging
Page 52
Marie Gettel Gilmartin of Fertile Ground Communications I began my first podcast in July 2020 after the murders of George Floyd and Breonna Taylor I wrote an article about the weaponization of white women s tears ala Amy Cooper and the birding while Black incident in NYC I was interviewed by a couple of Black podcasters and we had the deepest conversations about race and racism I ve ever experienced They also inspired me to start my own podcast and I interviewed both of them for my own show Finding Fertile Ground is an interview podcast where I highlight stories of people who have found their fertile ground by pushing through with sheer grit and resilience From the start I was determined to provide a platform for people from historically excluded communities people of color immigrants queer folks people who live with mental illness non Christians etc I wanted their stories to inspire others I wanted to discuss sensitive topics I wanted it to be my pandemic gift to the world Podcasting has broadened my network in unimaginable ways As an avid reader and professional writer I ve always been driven by people s stories I never realized I d be an excellent interviewer I ve interviewed people all over the world on both of my podcasts I started another one a year ago Companies That Care about business leaders who are trying to change the world I ve made deep friendships and discussed their most vulnerable stories I ve even gotten the honor of interviewing some of my favorite writers My podcasts are technically part of my business but I do not make any money off them They have given me positive exposure potential clients can see what kind of business person I am when they see who I have interviewed I feel deeply honored my guests have been willing to share their vulnerabilities with me We ve laughed and cried together and I ve found more than one soul sister in the process Each guest has touched me and made me a better person by sharing their challenges and triumphs
Page 53
About APeeling story of 100 in 100 Got Feedback Click images to go to page
Page 54
Page 55
Page 56
Personal Brand StorytellingWhat is the one thing you do better than anyone else? Create a marketing message based on that service, product, or skill and once you have saturated all the media channels, start talking about the next thing you are great at.People want to hire or buy from someone they trust and knows what they are talking about. We want to deal with those people who can teach us something, who come across as experts be-cause we want to know we are being taken care of by the best. Clicking on this icon
takes you to
the index
Page 57
Page 58
Dene Your Personal BrandHow often have you heard, you need a personal brand? Whether you are trying to secure a new position, build a book of business, or become known as an 'expert,' a per-sonal brand is a requirement. Employers are doing their due diligence and searching On-line to nd out if they will make someone an offer because they are covering their own butts when making a decision. I'm sure you have heard stories about people who either didn't get a position because a po-tential employer checked out their Online footprint or some-one was red because of a so-cial media post. Throughout time peo-ple have judged each other, spread rumours, and ruined reputations. Today, it is easy for others to spread gossip and for us to ruin our own reputations with the wrong post, however at the same time, it is easier for us to protect our reputa-tions from slander by creating a strong personal brand with engaged followers who will champion and protect us. It en-ables us to login and respond to questions, give gratitude to positive messages, and round out negative messages with our side of the story. What is a Personal Brand? It is you, your story, your image, and your reputation. The hardest part of creating a personal brand is knowing yourself well enough to be able to tell your story honestly, pos-itively, and consistently. Once you know what to say, you will discover content everywhere you go. Clicking on this icon
takes you to
the index
Page 59
You are better off with a few followers who are active-ly engaged with your content than a lot of followers who nev-er see you. Engaged followers spread your message and tell others what you do. I am lucky to have a handful of people telling people how wonderful I am at what I do. However if they don't know what I do, the message can get lost in the details and the person they are talking to becomes too con-fused to be interested in my services. Many freelancers focus on what things they are 'experts' in: The best website design-er, the greatest social media strategist, and the smartest Adwords specialist. These are strong focused personal brands, which are easy to clear-ly communicate to the market-place. The problem with them is they are not unique, authen-tic, or memorable because they are generic and subjective. Just because you say you are the greatest, doesn't mean people will believe you. It can be difcult for some-one looking for a specic skill to nd me or know how to re-fer me because I do too many things. To solve the problem, I focus on a narrower audience. For example, 'I help executives dene and tell their stories to the marketplace when transi-tioning to the speaking circuit.' The list of all the pieces I create is not as important as why cer-tain people need me.Continued ...Red BrandAPeel to ListenGreen MarketAPeel to ReadClick for More...
Page 60
Page 61
Page 62
In January 2019, I had the opportunity to talk with AnthonyGruppo and when I did, I dis-covered a man who is uniqueand has a lot to teach the worldabout what it means to be aleader.In February 2019, we start-ed on a ten-month journey toconstruct a book to help otherslearn the lessons he learnedthroughout his career. As wepeeled back the layers of hisstory, I got to know a manwhom I respect and admire.But, is he the man in hisstories or is there a disconnectbetween who he thinks he is,and the man others know?Too often people tell one storyabout who they are and behavein a contradictory way becausethey construct a personal brandbased on whom they want tobe instead of who they are. Inthe wake of publishing his latestbook, Pushers of the Possible,I decided to nd out if Anthonypersonal brand matched theman he says he is.THEPERSONALBRAND OFA CEO

Page 63
In an interview with Paul Lucas of Insurance Business Magazine, Antho-ny described himself as, "a small-town person from a working-class family," noting, "I am not impressed by myself – I am impressed by humanity." Is this a true statement? I went to the internet to nd out. When I look at his LinkedIn activity, he is always congratulating others on their successes and praising them as talented leaders, regardless of their position at the company. His posts are not look at how wonderful I am posts. They are stories about his visits to the many Marsh Commercial's branches to get to know the people he leads. His posts celebrate other's talents and give back to the community by engaging with it, both virtually and in the real world. He thanks people for the work they do and for spending time with him. All his posts are similar to this Linke-dIn post, "Being with colleagues in Witham is a great way to end the week. A Talented group asking chal-lenging informed and thoughtful ques-tions. Well done and thank you for spending time with me." His posts tell a story about a CEO who stands in the midst of the people he works with and applauds their suc-cesses. - ContinuedTHE 100TH EPISODE: AN INTERVIEW WITH ANTHONY GRUPPO
Page 64
Available on AmazonAnthony Gruppo talks with business leaders about their journey to success and how to be a servant leader in his latest book Pushers of the Possible. In it he shares his journey from construction worker to International CEO and asks questions to help you dene your success path to become the leader you are meant to be. Published by MarketAPeel
Page 65
Page 66
Collaborate to Grow Your Brand Story
Page 67
Meet Brand Storyteller Peter Goral I invest heavily in the front part ofour engagement. Sometimes it takesweeks to get a calendar together. ButI am not interested and building asolution until I really understand whoyou are, what you care about, whatyou have a tolerance for, and what youcannot possibly stand for. It's very important for people torecognise that if they say the wrongthing, or they make a misstep, itcould cost them a piece of business,or worse, it could cost them theirreputation. That is why I take thediscovery part very seriously. WhenI sit with my clients, I have these bigbrainstorming sessions, which lastforever. I do this to create comfort, notonly just for myself, but for my clientsbecause I want them to know that I'mnot just the service provider, I'm anarm of their organisation. I'm goingto speak on their behalf and developstrategies to build lead generation. When I push back and tell themthat I need to know more before divinginto posting their brand stories, theythank me for slowing them down, forpushing back, and not just throwingsomething. It is critical to tell people whoyou are and what problem you solve,rather than, how you do what youdo. The how is for the manuals, andnobody wants to read the manual. Ifyou're taking the wrong turns here,at the beginning, like running out intothe market before we've got it pinneddown, you'll run into problems.I try to nd something unique totheir brand story. It's either their personality orthey built their business on somethingmeaningful. I'm looking for that thingthat says, "Hey, these are really goodpeople to work with." I want that to bethe rst thing people see in my clientsbecause it's the one thing I want themto see about me. I want them to tellme, "I get you. I can see where you'recoming from and know why you do it.Click the green logo to read Q&A interview(it is different from the podcast interview, whichyou can hear by clicking on the red peel logo)
https://express.adobe.com/page/3nV2GjbTICoZ0/
Page 68
Telling Your Brand Story on Social Media
Page 69
Meet Hannah Acosta SocialMedia Manager at Ugly Mug MarketingWhat do you do? Marketing I help people useFacebook to grow their business andhelp my team become better along theway.What do you love about what youdo and how do you help others? We all have some sort of callingon our lives. For me, in this seasonof life, I've never felt more in the rightplace at the right time. I'm so gratefulto walk alongside small and large busi-nesses as they grow their brand andmake more money. Making money hasa tendency to seem greedy - but I trulybelieve that as businesses prosper, it'san opportunity for their employees todo, too! With that being said, every dayis different for me. I spend a lot of timeleading my team, giving them feedbackand helping them navigate challengesand problems their client's are facing.Teaching online and in person is apassion of mine and something I'vestarted to really grow into in my role.I love helping people learn somethingnew and gure out how Facebook andInstagram marketing can help theirbusiness ourish!What is professionalism? IMO, the pandemic has pro-foundly affected what "professional"means. We've become more kindand understanding when it comes todogs barking in the background ofcalls, kiddos joining in on zoom whendaycare is closed etc. I think we're alllike "oh, you're a human too!" and insome ways it's helped us build deep-er relationships with our co-workers.Of course we don't want to show upto a meeting looking like a hot-messexpress and completely unprepared -but those distractions that may haveseemed unprofessional before seemnormal and we're much more under-standing when they pop up.Click the green logo to read Q&A interview(It is different from the podcast interview, whichyou can hear by clicking the red peel logo)
https://www.uglymugmarketing.com/
Page 70
Page 71
Vote for Your Favourite Brand Storytelling Topic
Page 72
Page 73
Meet Jen Campbell a PersonalBrand Strategist at Jen CampbellEnterprises LLC She has cultivated a personalnetwork to impact millions of peopleon social media through her personalbrand. She has been recognized byFacebook for the work she's done tobuild communities and differentiatetheir brands. She was hand chosenby Facebook as one of less than100 small business owners and 200Facebook Group Leaders in NorthAmerica to attend the FacebookCommunity Summit in 2019. She wasalso invited and attended the GlobalFacebook Community Virtual Summitin 2020 and 2021. She was selectedto work on a team representing 1 of12 communities in North Americaas part of the Facebook CommunityAccelerator program in 2020. She wasone of the rst 1,000 people in theworld to become a Certied FacebookCommunity Manager.What is brand awareness? If I can't see your brand andknow what you stand for, and what'sawesome about you, I'm not going togo out of my way to buy your widgetsvs another widget vendor. People don'tjust buy what you do, they buy whoyou are. They buy into your brand.Which platforms must a brand beon? Brands need to show up wheretheir ideal client audience is online. Asocial media platform, a sales platform,online communication platform (canbe integrated into a website or socialmedia account.) Brands need awebsite, landing page or somewhereto direct people to learn more aboutwho they are, what they do, and theiroffers. Every brand needs at least aFacebook Page. There are over 2.3billion Facebook users worldwide. 80%of adults check their Facebook prolepages at least once a week.Click the green logo to read Q&A interview(it is different from the podcast interview, whichyou can hear by clicking on the red peel logo)
https://jencampbell.com
Page 74
Page 75
Want to get more out of social media?Do you want to build more connections, deepen the connections you have, and be seen by the right people? Join the MarketAPeel Community 100 in 10 day ChallengeThe challenge's steps will guide you through creating a strategy and then keep you accountable to ensure you do 10 tasks each day to be seen by the right people. All without spending 1 cent on ads - Which is a good thing because in Canada we don't have pennies. Click the Green Logo to Join the Challenge30-45 minutes a day for 10 days on a social media platform
Page 76
Businesses Belong on Tik Tok
Page 77
Meet Jen McKee of Kee Hart Marketing and a Tik Tok Specialistwho helps her clients connect withaudiences on Tik Tok.Where do you reside currently? San Antonio, TXWhat do you do when you aren'tworking? I love to read, be a mom andwife, Cross t, and travel (especially tothe beach). I love reading both ctionbooks, and non-ction business andself-improvement books. Books completely changedmy life. Reading "You are a Badassat Making Money" by Jen Sinceroencouraged me to hire a businesscoach who helped me scale mycompany from less than $40,000/yearto over $130,000/year. I am also now reading booksabout the Law of Attraction which ishelping me mold/believe in my dreamlife. I also think my tness journeycontributed and continues to contributeto my entrepreneurial success. I wasnever an athlete, but I fell in to a6-week challenge at a Cross t gymthat completely changed my life. At31 years old, I started a consistentworkout regimen that taught me thatI was stronger than I ever thought Icould be, I'm capable of anything I setout to achieve, and I am much morelikely to hit my goals when I haveaccountability help. About 7 monthsafter I started CrossFit, Kee HartMarketing was born.What is your professional role? I founded Kee Hart Marketing,a social media marketing agencyfor B2C businesses. We help themshow up and stand out on Facebook,Instagram and Tik Tok. Daily my jobrevolves around team management,over all client strategy and sales calls.Click the green logo to read Q&A interview(it is different from the podcast interview, whichyou can hear by clicking on the red peel logo)
https://keehartmarketing.com
Page 78
Page 79
The Everyday Hero Level 1 WebinarWant to be notied of upcoming Webinars? Become a MarketAPeel Member Today In storytelling there are different types of heroes. The original hero created by ancient greek storytellers were Classic Heroes. They were bigger than life who were able to go up against unnatural foes and win. They are Ulysses, Jason, Odysseus, Hercules. Imagine if you told a story about yourself and came across as a Classical Archetype Hero. You'd face the most difcult of challenges and come out on top without even getting a scratch. Does this sound like someone you can relate to or trust? This is why knowing which type of hero you want to portray yourself as is important. It starts with understanding which type of hero you want to be known as and then ensuring the sto-ries you tell meet the hero archetype criteria. The everyday hero is the most common and easiest for people to connect with because it's them, it's you, it's real.
Page 80
Page 81
Turn the Page or tap the Image for the section you want to go toPODCASTINGBRANDINGWRITINGMARKETINGPROFESSIONALS &BRAND SORIESPersonalCAREERS
Page 82
Page 83
Page 84
A Content Marketing Ghost Writer
Page 85
Meet Erik Deckers, President ofPro Blog ServiceWhat do you do? Content marketing. I own acontent marketing agency that helpsB2B companies get found more easilyon Google and to look like expertsonce they do. We write blog articleson a variety of topics for a variety ofcompanies, from nancial technologyto manufacturing to software-as-a-service.What do you love about what youdo and how do you help others? I'm a professional writer, which Ithink is about the best job I could have.I love to write so much that it's myhobby and my sideline, so I considermyself very fortunate to actually dowhat I love to do and get paid for it.Imagine getting paid to do your mostfavorite hobby in the world! I interview clients about thethings that they're passionate about,and I can hear it in their voices. We'lltalk about things that will make mostpeople's eyes glaze over, but they'reON FIRE about these topics. SoI tryto capture that passion and use thethings that I love to do and share theirstory. The nice thing about theirpassion is that they love to dig intothe tiny details of their work. The littleslivers of interest that can take up anentire blog article. As they continueto explore their business, they'll havematerial to share with their readers,which means I'll continue to work inthe job that I love.How do you stay motivated to keeptrying when there is a set back? Some days, the only thing thatkeeps me going is knowing I take careof my family. I've learned to let thedisappointments of rejection and set-backs slide off of me. I can be upsetabout something for a day, but that'sit. Tomorrow is a new day and there'swork to be done.Click the green logo to read Q&A interview(it is different from the podcast interview, whichyou can hear by clicking on the red peel logo)
Erik Deckers, President ofPro Blog Service
Page 86
Story Brand Copywriter Holly Fisher
Page 87
Meet Story Brand CopywriterHolly Fisher Owner of Fisher Creative MarketingWhat do you do? Many people struggle to writeclear, compelling marketing copy.As the owner of Fisher CreativeMarketing, I take that burden offbusiness owners by crafting copy thatcuts through the noise and helps themreach more potential customers. I'malso a StoryBrand Certied Guide andhave used the StoryBrand Frameworkto help dozens of organizations fueltheir marketing. We work togetherto create a clear message andthen I write all the content for aneffective sales funnel -- website, leadgenerators, emails. With these toolsin place, my clients turn leads intocustomers and boost their bottom line.What one thing must you do onSocial Media when telling a brandstory? I love using video. Last year Istarted recording short videos I callthe "Monday Marketing Minute." Theyare quick and incredibly helpful tipsabout marketing messaging, websites,emails and other elements of yoursales funnel. I post them to YouTubeand also share them on LinkedIn,Facebook and Instagram. Thesevideos are also great content for myweekly nurture emails and I receivea lot of great comments on the videocontent.What is a common mistake yousee brands making in the brandawareness part of their story? They aren't being clear. Theyhaven't clearly dened the problemthey solve for people. So, they wind uptalking about too many problems theytry to solve. Be known for one thing.Be known as the No. 1 solution to aspecic problem.Click the green logo to read Q&A interview(it is different from the podcast interview, whichyou can hear by clicking on the red peel logo)
https://fisher-creative.com
Page 88
How to Structure a Brand Story
Page 89
Meet Story Coach Laura Lewis-Barr of Training 4 BreakthroughsWhat do you do?Help people write and tell their stories in presentations and job interviews.What do you love about what you do and how do you help others? In addition to coaching individuals on zoom, before the pandemic I also coached groups. George was part of one of my public speaking classes. He was pretty angry at me during the second day. He felt unable to simplify his message and he didn't understand why I wanted him to do this. I've seen thousands of speakers have breakthroughs, so I was able to stay enthusiastic with George. We worked together through lunch, and he ended up having his own major aha moment. He stopped speaking hypothetically and really shared his heart with the class. It was inspiring and powerful.What is the number one goal you are trying to achieve? Help people tell their stories.Expert Interview Coach Laura's expertise is helping people talk about their skills, knowledge, and experience by telling stories. Stories help us remember what we know and we can practice these until they are rock solid. Also, current research says that stories are a way to "hack into" your interviewer's brain. Stories make you memorable and they actually create empathy in the listener. For interviews we can also practice stories to handle the most difcult types of questions-- former work situations, bosses, unethical situations etc. Having these great stories ready will be super useful as you go through any stage of the interview or networking process.Click the green logo to read Q&A interview (it is different from the podcast interview, which you can hear by clicking on the red peel logo)
Page 90
Email Marketing is Alive and Kicking
Page 91
Yuval Ackerman is an Ethicalemail strategist and copywriter at YuvalAckerman Copywriting
What do you do? I'm an ethical email strategist andcopywriter. I help entrepreneurs andbusiness owners to nurture a love-loverelationship with their email list andsubscribers.What makes you unique? As a young journalist. I spent3 years doing what the "system"demanded me to do, and it feltcompletely off every single day -asking intrusive, pointless questions,covering stories that made no senseand pushing myself to the edge ofmy physical limits just to get the nextscoop. When I nally got out of thatrole, I made an agreement with myselfthat whatever it is I'd do next, I'd befollowing my intuition and my guts. I moved to a new continent withzero contacts or language skills topursue my dream as a music producerWhat happened to inspire you tostart a business or buy one? I was honestly physically tired of my job in gastronomy, and mentallyexhausted for getting so many pushbacks when I made all kinds ofsuggestions to improve things at myworkplace(s). A few weeks beforethe pandemic hit, I nally opened mybusiness (although it had nothing to dowith the pandemic, just a coincidence).When the pandemic did hit, I had allthe time I needed to actually startbuilding and running my business. Bythe time that the restaurants cameback in late spring of 2020, I wasalready one foot out the door.What is the number one skill asuccessful Entrepreneur needs?Experimental mindset. As a businessowner/entrepreneur, failure is a part ofthe process, it's almost a given.Click the green logo to read Q&A interview(it is different from the podcast interview, whichyou can hear by clicking on the red peel logo)
https://www.ackermancopywriting.com
Page 92
Page 93
Tap the Image for the section you want to go PODCASTINGBRANDINGWRITINGMARKETINGPROFESSIONALS &BRAND SORIESPersonalCAREERS
Page 94
"Why tell a brand story?" Brands need to tell stories to draw people in and captivate them. Studies show that our attention span is less than a goldsh, but this isn't true. We have an attention span and can focus on things for longer than a New York minute. We just take a fraction of a second to determine if we want to pay attention to the thing in front of us, before moving onto the next interesting thing vying for our attention. With so many brands competing for eyeballs on a small screen, audiences have an innite amount of content to cast aside when looking for something inter-esting. Due to marketers and advertisers using the same data to create their content and copying each other, it's easy for peo-ple to swipe for the "NEXT" because we've seen it all before. What is Brand Storytelling? Brand Storytelling is a messaging strategy to connect a brand with an audi-ence.. It starts with understanding who the brand is, what it wants to be known for, and then telling stories abouy how the brand is exempling the core message. If you and everyone who touches your brand doesn't know your story's core message – You have a problem.
Page 95
Page 96
Daniel Carter, Marketing Specialistat Pharmacy Online says, "brand storytell-ing keeps your staff on the same page byrecording your brand narrative. By devel-oping brand rules, you decrease the riskof the story being misinterpreted or miss-poken. Documented principles serve as areference to which every area of your busi-ness should align, down to the font of yourstorefront sign, because every componentis important to present your story."The Brand Storytelling Funnel It takes a multifaceted strategy thatspans the length of the marketing funnelto move eyeballs from brand awareness tobrand advocates. If you are missing onepiece of the infrastructure, the audiencewill take the off-ramp out of your funnel andinto your competitors because your pathcame to the edge of a Grand Canyon andthere is no bridge to get them to the otherside. They can see what they want, butnot how to get there and they leave lookingfor new routes to their prize.Is Brand Storytelling a Buzz Word? As a content creator, writer, novelist,marketer, and advertising salesperson, I'vebeen a brand storyteller long enough toknow – it isn't anything new. It's not a buzzword but a long tried and true method toadvertising, marketing, and selling. In hisbook, the Science of Advertising, ClaudeHopkins, tells stories of how he used story-telling in advertising at the turn of the 20thCentury to get people to buy products fromtires to oatmeal. Kevin Daly, Marketing Manager,Zevo Health agrees saying Brand story-telling isn't just a buzzword—it's a provenstrategy that helps companies build rela-tionships with their customers, which inturn helps them sell more products andservices.Does Brand Storytelling Work? When I was selling advertising, Iused my graphic skills to create a specad to take to a meeting. As I went throughmy sales pitch, I marked up the spec ad totell the story the business owner wantedto tell. By the end, they were ready to buybecause they saw their story coming to lifeon the paper. I recently was going through box-
https://www.pharmacyonline.co.uk/ https://www.zevohealth.com
Page 97
es of stuff I put into storage when I gotdivorced 10 years ago. Inside the boxes,I found books on selling, marketing, andadvertising. From Brian Tracey's StoriesSell CDs to Hey Whipple Squeeze this byLuke Sullivan and Sam Bennet, these pro-fessional textbooks told me that storytellingworks. When it comes to the future of mar-keting, the brand story methodology ispopular. To nd out if brand storytellingdoes work in the real world, I asked people,"Why tell a brand story?" I got 85 respons-es. Brand storytelling is a method of com-munication used in multiple channels ofmarketing and advertising.To attract the right customers Ever get a customer who gave youmore headaches than they were worth?When we tell a values-based story andshow what we can do, we will attract cus-tomers who are like us and repel thosewho will be a problem. Which is why badreviews are a good thing, they let peopleknow if you expect this then look else-where. WAIT SHANNON – "I DON'T WANTTO LOSE CLIENTS." – You're not losing aclient. Your reviews are clearly telling peo-ple what they can and cannot expect whenthey hire you and you really don't want an-other client like the one who expected highend luxury service for budget cost cuttingprices. Robin Brown CEO at VIVIPINS* saysstorytelling is the best way to describe whatyour brand is about, who you are and whoshould be connected to you. By telling hon-est, genuine stories, you dene yourselfand your brand. Those who identify withyour ideals will be drawn to your content. Want to read the rest of this article?Click the MarketAPeel Green Logo.Play Bingos to WIN
https://vivipins.com
Page 98
Choosing to be a Designer Brand Story
Page 99
Meet Ari Krzyzek, Co-founder &Chief Creative Ofcer ChykalophiaWhat do you do? I help women-led brands getthe clarity they need to craft a brandthat delights their customers beyondpretty design, and delivers no-brainerUX. We build the underlying webframework and tools that enable themto sell at scale. It leads to growth onceit is implemented.What is your denition of the word"Brand"? According to Marty Neumeier,your brand is not what you say it is; it'swhat they say it is. Branding is al aboutguring who you are.Which platforms must a brand havein their digital footprint? Their website. Your websiteshowcase your brand & credibilityonline. There's no denying that youhave competitors offering the sameproducts or services as you do. So,what makes your business different?Why should people buy from you? A website can help your businessstand out from the crowd. You canconvey your value proposition, visionand mission, brand story, and thepeople working on your business. Thishelps humanize your brand and buildstrust. People can feel connected withyour business, thus increasing thepossibility of them making purchasesand even promoting your business totheir friends.What is a common mistake yousee brands making in the brandawareness part of their story? The most common mistake I seebrands making in the brand awarenesspart of their story is when they focustoo much on themselves. A business'sole purpose is to create customers.Click the green logo to read Q&A interview(it is different from the podcast interview, whichyou can hear by clicking on the red peel logo)
https://chykalophia.com
Page 100
Page 101
Meet Amy Delman Public RelationsWhat do you do? Amy Wachtel Delman founded her public relations consultancy and has been involved in public relations, marketing, and branding for almost three decades. Her expertise lies in using media exposure to raise awareness and increase revenues in companies where she has worked in-house or as a consultant. She has been mentioned in several publications over the years including The New York Times, The Star-Ledger, NJBIZ, Inc. magazine and the National Journal of Public RelationsWhat happened to inspire you to start a business or buy one? I went back to work when my twin sons were 4 weeks old. My family lived out of state. When my sons turned 14, they red the babysitter and told me they were too old to have a sitter - they were going to wander the streets on their own and get rides from their older friends. Obviously, this terried me - so I struck out on my own! Honestly, thought it was terrifying at rst, I quickly developed a client base, and after 16 years, have never looked back!How do you stay motivated to keep trying when there is a set back? There is a lot of rejection in pub-lic relations from the clients, from the media, from everywhere. I do not have a thick skin. I am sensitive and emo-tional. These are not traits that bode well when things go wrong. And they do! I have learned it is important to not blame myself for things out of my control, ALWAYS take a deep breath before responding and apologize when I act improperly. Don't get me wrong...there are days when I do just the op-posite. Those days I remove myself from my ofce and take a walk, call a friend, or have a good cry!!Click the green logo to read Q&A interview (it is different from the podcast interview, which you can hear by clicking on the red peel logo)
Page 102
Data Analyst Finds the Story in the Data
Page 103
Meet Angeley Mullins, CMO &CGO of Latana Brand TrackingWhat do you do? I am the CMO & CGO for LatanaBrand Tracking, an AI-Poweredbrand tracking solution, designed tohelp brands make better marketingdecisions. by understanding theirdata. As a leading B2B startup, all ofus at Latana help users worldwideto understand key brand insights forboth themselves and their competitors,enabling them to zoom in on theaudiences that drive their business.What do you love about dataanalysing? I really love helping others growand helping others reach their ownpotential. One of my favourite recentstories is about a team member whowas not sure about her own potentialor what she could achieve. For me itwas absolutely a delight to see hergrow and come into her own. Theday she told me how much more shebelieved in herselfWhen you started what mistake orfailure taught you the most aboutrunning a business? It is more important that youhave the right team with you. Hire fort level and culture. Intelligent peoplecan always step up to learn whatthey need to learn ( a particular skill,etc) however you cannot get the t orculture right with training- these thingstend to be hard wired.What support did you have? The best support for me waslearning from others who have doneit and were willing to share " whatis it really like." For me this wasvery critical because there is a lotof glamour involved in the " idea"however not very much "reality"involved in what it takes. It was more about overcomingall the challenges along the way andalways believing in myself.Click the green logo to read Q&A interview(it is different from the podcast interview, whichyou can hear by clicking on the red peel logo)
https://latana.com
Page 104
Page 105
Meet Dominique Hart, Founder &CEO, Chief Visual Branding Strategistat Dynamik EndeavorsWhat do you do? Visual Branding and WebDevelopment. I empower businessesand organizations to discover theirvisual identity, resonate with thepeople that need them, and conveytheir unique voice through the power ofdesign.What is brand awareness and whyis it important to the brand story? From a tactical and practicalpoint of view, brand awareness is theintroduction, or rst steps, as to howyou engage your target audience incommerce. You can also think of itas the way you begin a conversationin real life. You begin with "Hello, myname is..." or something of the like.In the world of brand awareness,this can be equivalent to actions likeadvertising, vending at public events,sponsorships, etc. To become an effective andmemorable brand, your audienceneeds to know that your business isgoing to be a true solution to whatis ailing them the most at that time.For a personal brand, your audienceneeds to know that they can identifythemselves in, or connect to, yourstory. This way, when it comes tomaking a sale, or extending your offer,to help them overcome whatever theyare having an issue with, it becomes anatural and easy action for your targetaudience to move forward with you orpurchase your product.What makes you unique? I'm an over-achiever. DynamicSpeaker, Serial Entrepreneur, CEOand founder of Dynamik Endeavors,and six-gure Real Estate Investor allby the age of 30. I accomplished thingsand achieved a lot of milestones. I'mnot afraid to take risks and grab everyopportunity that comes my way.Click the green logo to read Q&A interview(it is different from the podcast interview, whichyou can hear by clicking on the red peel logo)
https://dynamikendeavors.com
Page 106
Keep Learning About Brand StorytellingMarketAPeel Membership includes access to recordings of Level 1 workshopsTopics of workshops:• The Hero of your brand story • Telling a values based brand story• Brand Storytelling to get in the news• Difference between personal and business brand storytelling• How to structure a brand story• Telling a brand story to improve your career or get hiredLevel 2 workshops are included in BrandAPeel memberships or with the purchase of a ticket
Page 107
Page 108
Improving the SEO of Your Brand Story
Page 109
Meet Jason Berkowitz Founder,SEO Director of Break The WebWhat do you do?As a Founder rst, I wear many hatsbut primarily lead the SEO strategy forour clients.What is your top personal value?Transparency. In all aspects of life, thequickest shortcut to overcoming anobstacle is to give/receive completeand total candor.What do you do when you aren'tworking?Exercise, travel, and skydiving.What makes you unique?New York-style transparency in allfacets of life.What do you love about what youdo and how do you help others?When our clients achieve massivesuccess in search, and the by-productof that (trafc, revenue, businessgrowth, etc.), it's extremely gratifying tobe a part of that.What is the number one goalyou are trying to achieve in yourprofessional life?Make working a little bit easier for thepeople around me with an excellentwork/life balance. With an initial interest in SEOdating back to 2009 with a previousbusiness venture, Jason has beensharing his expertise in SEO & digitalmarketing during various interviews,podcasts, lectures at Universities &conferences. While also being a frequent writeron Search Marketing Resources,Jason shares his ideas, how-tos andtechnical philosophies on variousindustry sites.Click the green logo to read Q&A interview(it is different from the podcast interview, whichyou can hear by clicking on the red peel logo)
https://breaktheweb.agency
Page 110
Telling the Stories of Women
Page 111
Meet Kristin Marquet OwnerMarquet Media, LLCWhat do you do?I'm the owner of a PR rm in New Yorkand oversee all client relations anddigital marketing.Can you dene the wordEntrepreneur? Entrepreneurship is the processof creating a new business, productor service. The entrepreneur is theperson who embarks on this journeyand takes on the risks in order topursue his/her dreams. The denition of an entrepreneuris not just limited to business ownersbut also includes those who start up acompany, create a product or servicefrom scratch, or even create an onlinecommunity. Entrepreneurship can bedifcult and even risky at times. Itis important for entrepreneurs tohave strong skillsets that help themnavigate through their journey as theytake on many responsibilities suchas marketing, nance, and humanresources managementWhat is the number one skill do youneed to be successful? Successful entrepreneurs andbusiness owners need to have a goodunderstanding of their target audience.They should also be able to thinkcreatively, strategize, and adapt tochange. A successful entrepreneur orbusiness owner needs to possessa combination of skills. They needto know how to effectively usetechnology, work with people, andmanage nances. It is important for entrepreneursand business owners to understandthat they are not the only person inthe company who needs these skills.It is also important for them to hirepeople who have these skills so thatthey can support their growth as anentrepreneur or business owner.Click the green logo to read Q&A interview(it is different from the podcast interview, whichyou can hear by clicking on the red peel logo)
https://www.marquet.company/about
Page 112
Can you find the differences?15 differences to findClick the Peel for the Answer Key
Page 113
Page 114
The SERP Guy in Brand Storytelling
Page 115
Jason Barnard, The SERP BrandGuy at Kalicube
What do you do? I help brands / companiesand people manage their brandedpresence on Google... specically fortheir audience when they google thename - I call that result (which is yourGoogle Business card) a Brand SERPWhat is the denition of the wordBrand? Brand is what your audienceperceives you to be. And the big digitalplayers (Google, Facebook, Twitter,Apple, Microsoft...) have immenseinuence on that perception. We allneed to start paying attention andmanaging this now.What is brand awareness and whyis it important to the brand story? Brand awareness drives Googlesearches on your brand name. Atthat point you have bottom of funnelaudience searching your brand name,and the result on Google is yourGoogle Business Card. You needto ensure that Google reects yourbrand message in your words on yourGoogle Business Card. In the awareness stage, youraudience need to know enough tomake them curious about the solutionsyou can provide to them... enoughto trigger them to google your brandname. At that point, you can getGoogle to "recommend" you with agreat Brand SERP... at which point youhave an easier "sell".What one thing must you do onSocial Media when telling a brandstory? Have a personality. Hopefullyyour brand personality resonates withyour audience. Use the vocabulary thatyour ideal audience uses and buildthat into your personality. That makesa nice balance between you and themClick the green logo to read Q&A interview(it is different from the podcast interview, whichyou can hear by clicking on the red peel logo)
https://kalicube.com/
Page 116
Page 117
Turn the Page or tap the Image for the section you want to go toPODCASTINGBRANDINGWRITINGMARKETINGPROFESSIONALS &BRAND SORIESPersonalCAREERS
Page 118
Page 119
PROFESSIONALS & JOB SEEKERS
Page 120
Page 121
My Commitment Story When I read Robin Sharma's book, the 5am Club, I decided to commit to the process. In the book he says, "Own your morn-ing, elevate your life." The idea is to get up at ve and do 20 min-utes of cardio, 20 minutes of re-ection, meditation, or journaling, and 20 minutes of personal de-velopment. Doing these activities rst thing in the morning gets you in the right mindset to take on your day. You start at 5 because the hours of four to six are the most peaceful hours. I committed to this morning routine on De-cember 24 of 2018 for six months and my life changed. I credit my commitment to this process to the positive changes in my life during 2019. I discovered what I wanted out of life and where I wanted my business to go. Every day I com-mitted to everything I said I was going to do including courses on public speaking to become a pro-fessional speaker.And then life got in the way. At rst, I was committed to the 5 am club, then it became the 7am Club, then when I felt like it and my personal develop-ment stagnated. My business stagnated. I wasn't going through the process and my results re-ected my lack of commitment. I recommitted to the 5am club Jan-uary 2020 and found my drive, motivation, and opportunities. I'm committed to growth and person-al development and it's made a difference in my life, but I had to commit to myself. The rst step to positive change is a commitment to your-self. You have to commit to cre-ating the life you want. A mentor I look up to tis helped me to get where I am today. He helped me to work on this exercise called life, which is by designed by us. I get teared up every time I talk about this change in my life because... Continued
Page 122
Page 123
MarketAPeel Membership is FreeJoin MarketAPeel - costs you nothing - and receive the following benets to help you tell your brand story.• Brand Storytelling Email with tips, stories, and whats new• APeeling Digital Magazine - Light Subscription (1/2 an issue)• Access to MarketAPeel group chat communities • Access to Level 1 Challenges, Step by Step Projects, & more• Access to Level 1 Workshops • Contribute your brand story to MarketAPeel platformsPlus... There is always something new coming down the pipeline.Want to connect with your potential customers and get clear on your brand story? Click the MarketAPeel Green Peel Logo
Page 124
Page 125
Meet Dane SandersCEO of Tell Me Your DreamsWhat do you do?I'm the CEO. We work B2B withorganizational leaders to help theiremployees love their job. My main roleis to be the face of the brand, developcontent, give Keynotes, and winbusinessWhat makes you unique? I started my career with a degreein marketing and felt like I had learnedhow to manipulate people to buy thingsthey didn't want or need. So, I went tograd school to study philosophy andsee if I could nd a better way to liveinstead. Somewhere in there, I metand became colleagues and friendswith Seth Godin. He changed my mindabout marketing when it's done right.Then, I met and became colleaguesand friends with Donald Miller. Hehelped me understand the differenceI could make when I leveraged storystructure to communicate what I cando for people.What is brand awareness and whyis it important to the brand story? People need to know that wecan help them with their problem. Weposition as a needed Guide -- with theunderstanding and authority to helpour customers get what they want.What is a common mistakebrandsare making?They talk about themselves too much.Which brand gets the brandawareness part right? Big brands like Patagonia do afantastic job at consistently being anemblem for people who want to makea difference. Smaller brands can bejust as effective. Inuencers like ZachKing, Seth Godin, and Donald Miller allcome to mind as particularly on pointand consistent.Click the green logo to read Q&A interview(it is different from the podcast interview, whichyou can hear by clicking on the red peel logo)
https://tellmeyourdreams.com/
Page 126
Is "Learning New Things" a Hobby?
Page 127
Meet Darin Tuttle Founderand Chief Investment Ofcer Tuttle Ventures LLC
What do you do? Investment Management -Financial Services Industry. I am theFounder and Chief Investment Ofcerof Tuttle Ventures. I am primarilyresponsible for creating and managinginvestment allocations for privateclients. I also act as an "advisor toadvisors" and help other successfulwealth advisors who desire to taketheir practices to the next level ormaybe not as comfortable managingthe day-to-day needs of a investmentportfolio.How do you assess an idea, risk, oropportunity to ensure it is the rightone for you? Risk is all about understandingyour tradeoffs and probabilities.Portfolio Management is rst andforemost a risk managementbusiness. It's my goal to identies highprobability investments to maximizeyour investment upside potential.Spend less than you're making andinvest:• as soon as you can• as much as you can• as consistently as you canWhat do you love about what youdo and how do you help others? I love learning and I love teachingpeople. Advising and helping peoplemeet their goals is a very rewardingindustry because you will becomewealthy by learning from wealthypeople.Get in the right rooms.You willbecome wealthy when your friendsor clients are focused on improvingthemselves. Build the right circlebecause you are who you surroundyourself with. I am on a mission to invest soyou can enjoy the rest.Click the green logo to read Q&A interview(it is different from the podcast interview, whichyou can hear by clicking on the red peel logo)
https://tuttleventures.com https://tuttleventures.com
Page 128
Page 129
We hear a lot about entrepre-neurs like Elon Musk, Jeff Bezos, Bill Gates, and Steve Jobs. Men who started businesses and became in-dustry leaders and captains of huge organizations. Yes, they did something impressive, they created industries through innovation and disruption, but does this make them the best business leaders, the types of people we should be looking to emulate? They are known as the best busi-ness leaders of their time. They hyper focused on a vision, and they are not swayed from it by other opportunities or ideas. They are usually men. They have a reputation of being hard to work for and demanding loyalty without returning it to others. They only care about their vision and little for those who make it happen, especially if they are just numbers on an excel sheet. There are rumours about how badly they treated the people who worked for them and helped them attain their vision. There are news stories by investigative reporters about the conditions those lowest down on the totem poles are forced to endure. However, as with everyone on the planet, I know the truth is somewhere in the middle of the positive and the negative. Yet, after reading their bi-ographies I wish there was a bit more positive to add to the scales of those whom our media serves up as leaders to emulate. I went out and looked for leaders who put people over prots and succeeded... Continued
Page 130
Ditch the Pitch30 Second Networking
Page 131
Meet Laura Templeton, the ChiefInstigator at 30 Second Success What do you do? In my professional role asFounder and Chief Instigator at 30Second Success, I get to createprograms that help the most incrediblytalented and successful professionalwomen dene their brand messagethe world needs to hear. As anInternational Speaker and Author of"30 Second success: Ditch the Pitch &Start Connecting!", I inspire audiencesaround the world to dig deep anddene their authentic message thatconnects with the people they aremeant to serve.When you started what mistake orfailure taught you the most aboutrunning a business? One of the lessons I learnedthe hard way was nding the balancebetween creation and my true job as abusiness owner. As a creative person,it was very easy for me to get lost inthe creation and to not focus on themarketing and sales. Marketing andsales are critical to the life of yourbusiness. When I was developingmy online courses, I found myselfoundering for clients. I had gotten sowrapped up in the development andperfecting (yes, perfectionism is trait Istruggle with) of my courses that I hadlost sight of marketing and networking,both of which had provided me with asteady stream of clients for years. MyFinancial Advisor asked me one simplequestion..."How do your clients ndyou? (Networking) Do more of that!"What is the number one goalyou are trying to achieve in yourprofessional life?Teaching people how to connect withheart. When you love your work,your network, and your clients theworld becomes a much better place.It all starts with bringing your heart toeverything you do.Click the green logo to read Q&A interview(it is different from the podcast interview, whichyou can hear by clicking on the red peel logo)
https://30secondsuccess.com/about/about-laura/ https://30secondsuccess.com/about/about-laura/
Page 132
Keep Learning About Brand StorytellingMarketAPeel Membership includes access to recordings of Level 1 workshopsTopics of workshops:• The Hero of your brand story • Telling a values based brand story• Brand Storytelling to get in the news• Difference between personal and business brand storytelling• How to structure a brand story• Telling a brand story to improve your career or get hiredLevel 2 workshops are included in BrandAPeel memberships or with the purchase of a ticket
Page 133
Page 134
Land the Dream Job with a Brand Story
Page 135
Meet Michelle Enjoli, a Career Coach who knows how to land the Dream Job.What do you love about what you do and how do you help others? I love this job because I get to help others uncover and communicate their value. I help people learn networking strategies, develop their personal brand and help them build their self-esteem. One of the most memorable stories I have is helping a young 27-year-old woman land her dream job. She was working in her eld of choice and wanted to make a change when she saw a job posting for her dream job. She thought she would never be able to get it but we worked together and I gave her some strategies to use to effectively network. She followed the direction and landed her dream job. When I got the text, I jumped out of excitement. When someone else succeeds, it gives me so much joy. I feel like it's happening to me.What is professionalism, can you dene what the word means to you? Professionalism is being able to authentically perform your duties well with high standards for the quality of your work and relationships.What do you wish you knew about being a professional when you started your career? Be authentic and use your natural skillset to set yourself apart from everyone else. We are all different and come with a unique set of skills that are valuable. Learn what they are and learn how to communicate that effectively. A successful career is not dened by climbing the corporate career but by doing the work that denes success for you. This is achieved when you learn how to build meaningful relationships and provide value to others.Click the green logo to read Q&A interview (it is different from the podcast interview, which you can hear by clicking on the red peel logo)
Page 136
Finding Your Passion Brand Story
Page 137
Meet Ryan Parshall of Healthy Brands After selling my digital adagency in Kansas City in 2018, Ifelt a higher purpose out there. Ineeded to help business owners nda faster and easier way to grow theirbusiness without pain. It took mea lifetime career of working next tobrilliant business owners AND owninga company for 11 years to nallyunderstand the systematic way togrow and scale a healthy organization.Anyone can do it, it they simply get theright processes and people in place.Having all the secret formulas that Ihad to personally develop to get mymind, team and company organized,can now be shared through theWorkshop Series and Coaching I do tohelp other break through the barriersthat are holding them back. You see,working for other people no longermakes sense for me. I can only help them a little bitonce they hired me as a CMO becausejust like any other employee, they stoplistening to your advice and experienceonce you are on the payroll. Aftertrying a couple of CMO roles after Isold my company and then havingthose business owners throw a lifetimeof experience of successfully growingteams, processes and companiesin the trash, I found I need to dosomething more meaningful. I needed to nd a way to beuseful and more helpful to otherbusiness owners and entrepreneurs.That's why I started Healthy BrandsBusiness that offered BusinessCoaching, Business Brokering andFractional CMO placement services.What Obstacle, Struggle, Issue, didYou need to Overcome to get whereYou are Today?I need to prove that I couldsuccessfully scale and grow my ownbusiness. I went through the pains ofpeople, lack or process, lack of protand leadership failures to learn thevaluable lessons of what's right andwrong in growing a healthy business.Click the green logo to read Q&A interview(it is different from the podcast interview, whichyou can hear by clicking on the red peel logo)
https://healthybrands.biz/author/branddaddy71/
Page 138
A Transformational Brand Story
Page 139
Meet Jem Fuller, Coach, Author, SpeakerWhat do you do?I am a leadership and communicationcoach, author, speaker, and retreatfacilitator.What makes you unique? My diverse range of lifeexperience: punk squatting inabandoned buildings in London,barefoot bohemian wandering aroundAsia for years, tattooist, re-dancer,actor, singer/songwriter, travelconsultant, senior corporate leader,kindergarten teacher, volunteer inthe third world, reexologist, Chinesemasseuse, and now executive coachand international retreat facilitator,author, keynote speaker. Oh and fatherand partner too :)Do you have a before story wherelife wasn't great? I got caught up in a corporaterole, where I was out of alignment withmy personal values, drinking too muchalcohol, working too many hours, inan unhappy marriage, and strugglingnanciallyWas there a catalyst that happenedto inspire you to want a better life? I had a spiritual experience ina North American Indigenous sweatlodge ritual when I realised, I believed,I wasn't good enough. That realisationchanged my understanding of who Iwas and what I wanted out of life.What thing helped you to changeand create a better life?I brainwashed myself into believingI am enough and deserve all theabundance and success I create.There is hope. You can change yourrelationship with self and life. Do thework. Re-wire your beliefs and nurtureyour relationship with Self.Click the green logo to read Q&A interview(it is different from the podcast interview, whichyou can hear by clicking on the red peel logo)
https://jemfuller.com
Page 140
Page 141
Got Questions?Check out the About Shannon and More section to discover information on the following topics:• MarketAPeel• APeeling Digital Magazine• BrandAPeel Podcast• How to be a Guest on BrandAPeel• How to contribute an article for APeeling• How to be notied for a quote for an article• How to report an error you found• About 100 episodes in 100 days• About Shannon PeelClick the Green Peel
Page 142
Page 143
Turn the Page or tap the Image for the section you want to go toPODCASTINGBRANDINGWRITINGMARKETINGPROFESSIONALS &BRAND SORIESPersonalCAREERS
Page 144
Page 145
Page 146
Two Women and a Cannabis Store
Page 147
When my life long friend, Corrine Swenson, told me she was opening a Cannabis store, I was shocked. Yes, Canada has made it legal, and we grew up in BC where good old BC BUD was a part of our culture however, I knew people who grew it and my friend didn't t my stereotypical impression of the Cannabis business person. I was having trouble shifting my mindset to the mainstream after a lifetime of illegal status and I wanted to know if they experienced any backlash within the community. I talked with Corinne and her partner, Kim Sam, on my BrandAPeel Podcast, about their Cannabis store and how their small town reacted to their new venture. Less than two months ago the doors of Crossroads Cannabis in Burns Lake, BC opened its doors after the lengthy process of obtaining a license from the Provincial Government. What makes this place unique is that it is owned by two women who grew up in Burns Lake as the best of friends. Both Corrine and Kim married hometown boys and raised seven kids between the two families to adulthood in the small Northern BC town of Burns Lake. Kim's children's roots run deep in the area as they, along with Kim's husband, are members of the Burns Lake First Nations band. Both Corrine and Kim had steady careers within the public sector for twenty years before they took the leap into full entrepreneurism. Corrine worked in Economic Development for the regional government, while Kim worked in the nancial department of the local Burns Lake First Nations Band ofce. The decision to leave these secure jobs to embark upon an entrepreneurial venture was not easy to make, however, with the support and encouragement of their families they took a chance on themselves. Family and friends were surprised the product was going to be Cannabis. There were many comments like, "If you'd told me twenty years ago that Corrine and Kim were going to open a Cannabis store, I wouldn't have believed it."Click the green logo to read Q&A interview (it is different from the podcast interview, which you can hear by clicking on the red peel logo)
Page 148
A Sense Meets Sizzle Brand Story
Page 149
Meet Nicholas Jeffery CEO ofRAYL and Impressario ConsultingWhat do you want the RAYL brandto be known for? Honest, transparent, great valuenancial services company to providesolutions to the problems SMEs facewith traditional banking institutions. I look at my bank statements, Isee the charges and I have no idea whatthey are for. It irks me to see how muchthese banks take in fees and the lack ofservice I receive in return. I don't knowwhat I'm paying for. I come to England. My card doesn'twork. So, I must go out of my way tond a bank and nd identity to prove I'mme. I feel like they are putting hurdles infront of me to make it harder for me todo what I want to do with my money. It isannoying to have to go and get cash so,I can take my daughter to lunch becausethey don't expect me to be in the UnitedKingdom and now my credit card won'twork. They don't know me. They don'tcare who I am. I'm just a number. And it'snot just this one trip. In December, I left Budapest Ihad breakfast, paid for it with my card.Arrived in Munich had lunch, paid for itwith my card. Arrived in Vancouver, triedto check into a hotel and they said, Ican't because my card is blocked. I callthe bank and the guy says "We think itcan't be you" – Trust me, it's me. We gothrough a couple of transactions and hesays, "How could you have breakfastin Budapest, lunch in Munich, anddinner in Vancouver?" I said, "It's calledan aeroplane." Now, I'm justifying myexpenditure with my money to an IndianCall Centre and I'm thinking, this not howit should be. I want to build a solution whereRAYL uses the data, with the customer'spermission, to know the customer andtheir business better so we can providebetter service, lower costs, and accessto same day nancing. That's my wholeraison d'etre, because we can providesmall and medium sized businessowners the solutions they need with theunderstanding they deserve.Click the green logo to read Q&A interview(it is different from the podcast interview, whichyou can hear by clicking on the red peel logo)
Impressario
Page 150
Stepping up as CEO of a Global Brand
Page 151
During our podcast, Tonyshared how he learned the skillsover years in the alcohol industryto be able to step in as a CEO ofa global brand.Who is Tony Gaines? Tony Gaines, CEO of Stew-art's Enterprise Holdings, Inc.,carries with him more than 25years' executive experience inbeverage alcohol with multi-na-tional companies including E.&J.Gallo Winery, Anheuser-Busch,and Advantage Solutions. Overthe years, Tony representedbrands in the domestic U.S. aswell as duty free and militarychannels worldwide. In addition to his beveragealcohol experience, Tony hadconsulted for a range of compa-nies, from helping Fortune 100CPG companies to leading start-ups to outpace their markets.Just prior to being named CEOof Stewart's Enterprise Hold-ings, Inc., Tony was the CEO ofa health and wellness company,transforming a struggling CPGsales organization into a leadingmanufacturing business.What does he do as a CEO? For 1.5 years, as CEO ofStewart's Enterprise Holdings,Inc., Tony has negotiated impres-sive licensing deals to create aportfolio of brands built aroundcocktails, such as Hard RockCocktails and Stewart's SpikedSodas. Now, he is growing thesebrands using a beer portfoliostrategy: each line has a lo-caloffering and "regular" offering andis now broadening into both high-er-proof beverages and thosethat are their antidote.What does someone need todo to make their way up thecareer ladder to CEO?Listen to the podcast episode todiscover his answer.

https://stewartspiked.com
Page 152
Page 153
Fangled group is a strategy rst,global marketing and sales consultingrm.What kind of problem would I haveif I need you? We help companies who arestuck and need to rethink who theyare, or they are a larger company whowants to create a global footprint butdoesn't know which stones to stepon to cross the creek without gettingtheir feet wet. We become part of theirorganisation to get them either to thenext level, out of a ditch, or growinginto a global player. The core problem at the heartof most stuck businesses are theleaders who mistake themselves forthe brand as opposed to recognisingwho their customers really are andunderstanding how the world seesthem as a brand. Think of it this way,if you're going to open a music store,are you going to only sell what youlike, or are you going to put stuff on theshelf that you don't like because youknow the market will buy it? You needto know what your market wants anddeliver it to them, not create a brandfor your own interests.What is Branding? I've gone into meetings beforeand when they nd out we help withtheir branding they say, "Oh, you guysare branding experts. Can your teammake us a logo?" The logo representsyour brand, but it's not your brand. Itis the last step of really understandingwho you are and what you offer themarketplace. Not only do you need to deneyour core brand and what it meansto the market, the brand is aboutwho your company is at its core. AtFangled we convert every touch pointto reect our brand so that it's notjust the folks who work with us butit's also those who do business withus who champion our brand to themarketplace.Click the green logo to read Q&A interview(it is different from the podcast interview, whichyou can hear by clicking on the red peel logo)
https://fangledtech.com
Page 154
Page 155
Page 156
Using Comedy in Your Storytelling
Page 157
R. Scott Edwards is a Producer/Podcaster at Verbal Ninja Productions
What do you do? As a Producer, I have a podcastand put together comedy fundraisersfor charities.What is your top personal value? As a Producer, I have a podcastand put together comedy fundraisersfor charities.What makes you unique? As a entertainment producer Ihave had the pleasure to be "shussed"by Joan Rivers, hung out in front of amovie theater with Steve Martin, hadRobin Williams on my stage twice,and had the joy of having Soupy Salesthrow a pie in my face!Was there a catalyst that happenedto inspire you to want a better life? I grew up in the lower middleclass, and my folks divorced wheni was 10. i had to start working at ayoung age and helped my Mother allI could. I was out of the house at 15,and started my rst company at age17....always with the knowledge that Iwas on my own and no one would besupporting or helping my nancially.Who helped you to create the lifeyou have today.Sadly, I didn't have a mentor. My Dadwas gone most the time and I didn'thave anyone to look up to; maybe whyi have a strong ego and prefer doingthings my way (I was red a lot byothers...Ha!)What thing helped you to changeand create a better life?Believing in myself and taking risks.Yes, I failed plenty of times; but Ialways had fun and whether a loss ora win, I always learned something!Click the green logo to read Q&A interview(it is different from the podcast interview, whichyou can hear by clicking on the red peel logo)
https://verbalninjaproductions.com
Page 158
Got Questions?Check out the About Shannon and More section to discover information on the following topics:• MarketAPeel• APeeling Digital Magazine• BrandAPeel Podcast• How to be a Guest on BrandAPeel• How to contribute an article for APeeling• How to be notied for a quote for an article• How to report an error you found• About 100 episodes in 100 days• About Shannon PeelClick the Green Peel
Page 159
Page 160
Preserving the Family Story
Page 161
Page 162
Page 163
Keep Learning About Brand StorytellingMarketAPeel Membership includes access to recordings of Level 1 workshopsTopics of workshops:• The Hero of your brand story • Telling a values based brand story• Brand Storytelling to get in the news• Difference between personal and business brand storytelling• How to structure a brand story• Telling a brand story to improve your career or get hiredLevel 2 workshops are included in BrandAPeel memberships or with the purchase of a ticket
Page 164
Meet Nickolas Natali a Wealth Performance Coach & Podcast HostWhat do you do? I help individuals (predominantlymillennials) achieve the highest level ofsuccess and fulllment in their wealth,health and relationships. I focusprimarily on helping millennials get andlive debt-free, hit their savings goals,and take the ceiling off their income sothey can live a fullling life.What things did you try doing thatdidn't help you create a better life? A big part of my story is themalnourishment that I endured whiletrying to pay off my debt - one of theworst things that I did was I bought$1 frozen Mac n Cheese meals fromWalmart. I spent a whole week onlyeating three to ve of those a day. Itwas horrible, my body hated it, and itprobably ended up costing the sameamount if I had invested in fruits andmicrowaveable vegetables.Was there a catalyst that happenedto inspire you to want a better life?I observed the world around me.Everyone that I knew had debt andwas so comfortable handing moneyover to the banks month after month. Ididn't want to live that way. There areonly a handful of things in this life thatwe have control of and staying in debtis one of them.What thing helped you to changeand create a better life? Grit and a plan. If you have noidea where you'd like to end up at -you'll never reach that destination. Themost important thing we can have forour nancial lives and lives at whole isclarity on what we want. You have purpose! Know that.You are loved by a God above andpeople in your life.Click the green logo to read Q&A interview(it is different from the podcast interview, whichyou can hear by clicking on the red peel logo)
https://nickolasnatali.com
Page 165
Living the Vanlife to Pay off the Student Loan
Page 166
Dennis Mellen is a PositiveLeadership Trainer and Consultant whobrings his experience as an ofcer in theUS Airforce to guide executives towardssolutions to the problems they face. Tolearn more about his programs and hisbook, It takes More than Heart, visit his website.
What is your top personal value? Persistence - The word exempliesthe Japanese saying of "fall down 7 times,get up 8". After ying professionally forover 30+ years as an Air Force pilot andan airline pilot, I lost my medical and had acareer/life "do-over". My book, Takes MoreThan Heart is the story of my life, Part 2.What do you do when you aren'tworking? I coach high school baseball whichI've done for 10 years now. Our teamhas nished 3rd in State, with numerousRegional and Sectional wins. I also enjoybiking.What makes you unique? I attended 14 different schools fromkindergarten through 12th grade. I'vetraveled and spent time in over 40 differentcountries including travel to Africa, theMideast, Europe, Russia, South Pacic,Phillippines, Japan, Korea and many more.What do you love about what you doand how do you help others? I love helping leaders connect cultureto the vision creating an environmentwhere employees feel they "get to go towork, instead of I have to go to work".I help leaders engage their employeesso the team/company can benetfrom employee innovation and eliteperformance.What do you wish you knew aboutbeing a professional when you startedyour career? Start being a professional fromday one and realize professionalism is aprocess and not a destination.Click the green logo to read Q&A interview(it is different from the podcast interview, whichyou can hear by clicking on the red peel logo)
https://www.beabean.net
Page 167
Unexpected Life Change Brand Story
Page 168
Page 169
Turn the Page or tap the Image for the section you want to go toPODCASTINGBRANDINGWRITINGMARKETINGPROFESSIONALS &BRAND SORIESPersonalCAREERS
Page 170
Page 171
ABOUTSHANNON PEEL AND MORE OR YOU
Page 172
WHO AM I? Content creator, writer, publisher, podcaster, and digital storyteller Shannon Peel is the creative force behind the MarketAPeel Brand. She works from her home ofce over-looking life in Downtown Vancouver, BC Canada. Though she grew up in small town BC, she has always been a city girl at heart and started living her dream in her mid 40s after her kids grew up and struck out on their own. She has a diverse career in sales, marketing, advertising, writing, and childcare. She has struggled to nd her sweet spot and value in the marketplace and shares her story to help others who are struggling. Her hard work ethic and entre-preneurial spirit are in her DNA as multigenerational Peel family values, which she has passed on to the next generation along with her independent streak. People describe her as intel-ligent, quick witted, and creative, all things she takes pride in as she values intelligent thought and solution based productivity. MarketAPeel reects her values and vision. Today, she is creating inter-con-nected platforms where people can share their brand stories and others can come to nd solutions to creating an appealing life, career, or business. Join her on her journey at www.marketapeel.com.
Page 173
WHO AM I? Shannon Peel's Personal StoryShannon Peel's Professional StoryDiscover more interviews and articles shannon has been quoted in - Click the Peel.
Page 174
You know those people who knew what they wanted to be when they were 10? The ones who were hyper focused on their purpose in life and made it all look so easy? If you are anything like me, that is NOT what happened on your life's journey. Most people live the life that found them instead of the one that lled them with a sense of purpose. Now, there is nothing wrong with working for the sake of a pay cheque so you can pay the mortgage and pay for your kid's hockey or dance class. Your purpose isn't always in your paying work. However, for those of you, like me, who want one purposeful life instead of a work / life bal-ance, nding a way to make money while fullling your purpose is the holy grail.What is Purpose? The dictionary says purpose is the reason something exists. According to the University of Minnesota, purpose can guide life decisions, inuence behavior, shape goals, offer a sense of direction, and create meaning. Other denitions I found are, a goal or intention, a plan to do something, the things we strive for, and determination. My favourite denition, purpose is the rea-son we do something. Simon Sinek wrote a whole book on nding our "Why," He says our, "WHY is the purpose, cause or belief that drives every one of us." He helps people understand why they get up, go to work, and nd pas-sion in their daily lives to help organizations move forward. His popularity is a sign that people are seeking a reason for living by knowing what they do matters. FINDING PURPOSEby Shannon Peel
Page 175
You feel Jealous Have you ever cringed with dis-comfort and envy when someone told you what they did for a living or how they were changing the world? Do you wish you were? Whenever I met someone who was a writer, I'd have a gut wrenching physical reaction. Yet, I would push the idea away and continue to live the life I had, not the one I needed.Is it a Hobby? Do you spend your free time on the fringes of your purpose? For years, I would put my toe in the waters of storytelling through photography, scrapbooking, and working in sales. My interests and jobs help me develop storytelling skills so when I was nally willing to embrace my purpose, I had the talent and skills to succeed. Do You Feel Joy? When we feel joy, we are living within our purpose. For eighteen years, my pur-pose was to be a mother and I loved every minute with my kids. I felt joy every day. Then they grew up, became independent, and moved out of the house. Suddenly, I needed a new purpose to ll those long weeks between visits. Finding my reason for living was not easy. I had to reect back to my younger years to remember what else in life brought me joy.Do you Lose time? When you are engaged in doing something, do you lose track of time and become so focused on what you are doing, you forget to eat and push until you fall asleep? When I'm writing, I lose time and I forget everything around me because I am getting the thoughts out of my head and onto paper... continuedRed BrandAPeel to ListenGreen MarketAPeel to ReadClick to Continue...
Page 176
Ask Me Anything About APeeling This is the largest issue of APeeling, which comes with its own issues – literal-ly. With so many stories to share in print, audio and visually this time round due to the 100 podcast episodes in 100 days chal-lenge, I created 6 sections to organize the stories. This is the rst issue of APeeling to be cre-ated with a new organization structure and topic focused. What Makes This Issue Different?It is based on a topic and the cumulation of a specic 3 month in depth project to create, collect, and tell 100 stories audibly. Drop in to discover the results of this pro-ject. I will be adding stories about pod-casting, podcasts about podcasting, and resources I nd on podcasting to create a larger book of content around podcasting for anyone interested in nding interesting podcasts, being a podcaster, upping their podcasting game, or becoming a guest on podcasts. Which is why it is important you create an app on your devices so you can come back and see what has changed – so make sure you create the app and become a MarketAPeel member to stay up to date. What's Next? Good question. Make sure you vote for your favourite brand storytelling topic in the poll to help me choose the next topic to
Page 177
dive into and create an insane amount of content to ll a magazine with tips, advice, ideas, and education. How Much Time? It usually takes me 4 intensive and long days to create an issue of APeeling. This issue is going to take me 5 days to get it written, created, and published. That is from before 6am to midnight with nothing more than a bathroom break and a protein bar - coffee diet. Do People Pay? Nope. Content has very little value to the marketplace becaue there is so much of it out there. Future may change but as of now - no.
Page 178
Want to be quoted in an article?Want to have a Q&A Article about you on UnPeeled Blog?Receive an email when Shannon is asking people about a topic for an article / podcast, like the articles you see in this issue of APeeling about Podcasting.Want a Q & A article published about you and your brand story, like the articles you've seen about podcast guests in this issue of APeeling? - Click the Peel
Page 179
Click Image to listebn to episode
Page 180
Page 181
Want to Apply to be a guest on BrandAPeel?Want to Book Shannon on Your Podcast, click the peel and send her a request.
Page 182
THE 100 BRANDAPEEL EPISODES IN 100 DS SORYWhy am I Doing This? Well, like most of what I do an idea pops into my head and I jump off the cliff to see what will happen - which is the OPPO-SITE of what I recommend clients do. All it is costing me to test the market is time... and I don't have a life beyond creating con-tent and telling brand stories. For those who don't have time and need to hire help to produce a podcast, you must rst research what people want and how to position your brand into the market. Let me do the research of jumping in, talking to brand storytelling experts, and listening to what people are engaging with to discover what is going on out there. Then I'll have the knowledge you need to be more successful in your efforts. When I re-started my podcast at the end of January, I was shocked by how many people were contacting me to talk to me about brand storytelling. Before I knew it, I had over 70 booking requests and I didn't want to make any of them wait a year before their episode was published - so I
Page 183
was posting one episode a day for 2 weeks and as people listened to my podcast - I had more people contacting me to talk about brand storytelling. Trying to get content for APeeling digital magazine was like pulling teeth at times and the readership was only 2 000 per monthly issue - Podcasting gives qual-ity backlinks, appointments with interesting people, blog posts for UnPeeled, and con-tent for future issues of APeeling.The Challenge: If I had a team - this wouldn't be a big deal because I'd have people helping me do all the work and where would the struggle, challenge, or conict be in this brand story? I am a solopreneur doing it ALL while still keeping up with client work to pay the bills and keeping up with my many other content projects. So it's a big commitment for me... Continued on UnPeeled
Page 184
Update number 2: A week ago I started the 100 epi-sodes in 100 days challenge and today was the rst day I struggled to get a pod-cast out and it was the one meant to up-date my listeners on how the process is going, what I've learned and what is com-ing up this week. In the editing process, I paid close attention to what each person was saying and discovered I'd missed cataloguing information into my mind during the conver-sation. There is so much information during a conversation, we miss comprehending everything we hear, which is why podcast-ing is valuable because you can go back and relisten to nd the gems of ideas, tips, and advice in those conversations. Relistening to these posts to create this summary showed me the threads that were woven through the podcasts to tell a bigger core story to help BrandAPeel lis-teners and myself get to the next level of our businesses by structuring our service and messaging to solve problems with other professionals we trust.The problem with 100 podcast episodes in 100 days I'm tired and when I get tired, de-pression starts talking to me and my mind starts to work against me.• Does what I do matter? • Does this make a difference? • Is this the right idea?• Does anyone even listen? • Am I wasting timet? Let's face it. I'm sitting here alone hoping that my purpose of doing this pod-cast is working and will work to help others tell their brand stories to help people learn how to create an appealing life, career, or business. As a solopreneur I need to motivate myself. I am doing it all by myself and feeling like I'm getting nowhere. One min-ute I have an increase in trafc to my site and the next, I'm looking at the end of the month getting closer with that monthly bill looming. I have to remind myself about what I'm building. It's going to take time to build it and I need to breathe and trust that I will be able to make it through... Continue
Page 185
Page 186
Page 187
Update number 3: I got a J O B and I wasn't even look-ing. In fact, if all interviews I'd gone throughduring my time searching for work werethis easy, my anxiety around job searcheswouldn't exist. So, If I wasn't looking forwork, how did I end up with a J O B?I Was Offered a Job After a PodcastInterview My guest got off the zoom call andtold his VP of Operations, "I think I justhired the host." Two days later we had adeal. A week later I started. He'd Googled to see what I wasabout and since I dominate 5 pages, hefound a lot about who I am and what I do. A personal brand helps you get no-ticed and when the right person sees you,they will reach out. It just won't be on yourtimeline. Just like credit, you need to buildit when you don't need it so you can benetfrom it when you do.The Challenge & the Week Can someone tell me where all thetime goes and how to get more of it?As I spend each day interviewing people,editing episodes, and posting them out intothat ever expanding and noisy space callthe internet, I wonder if I'm wasting my timeor am I doing the right thing for my brand,myself, and my wallet. When I go over the week's episodesto summarize the week I discover that Imet people I'd never have met otherwise,I talked to peers who do what I do, and Ilearned from them about how to tell brandstories. Talking with a peer about the work we dois a different kind of conversation becauseyou start talking the same language andthey 'get you,' they understand the difcul-ties, insecurities, and processes you wres-tle with every day.Play Bingos to WIN

Page 188
Update number 4 This week has been interesting as, I didn't have the episodes I'd recorded the previous week to edit and upload. I had started putting them into the cloud before my parents arrived to take me to my broth-er's place in Whistler, and when I arrived, I discovered the les didn't fully upload. The good news was I had enough new inter-views for this week, and they all came to-gether quite nicely to tell a larger story and teach me about the importance of working with people to create something bigger… . Things that didn't work out this week – I didn't get all the social media posts done and I need to do more in the way of promo if this is ever going to get off the ground. A 100 episodes in a 100 days isn't enough to get people to listen or to engage with the stories that are unfolding over this time period.What went right. I spent time with my parents, my brother and his family, and I even took 30 minutes a day to get out and walk. I am not enjoying the benets of being in Whistler, but have you seen the price of a lift ticket not to mention the fact I'd have to rent skis and I would be exhausted after a couple of runs due to the amount of time I've spent glued to my computer over the last couple of years. So, I don't mind that I don't have the time to hit the slopes. Building out a digital footprint that people want to engage with, follow, and be guided through takes a lot of work and constant feeding. Just when you think you're doing well, something happens and suddenly, things are back at the beginning analytics wise. I know I'm not the only person struggling to maintain momentum or even get traction online. I realize it takes time, daily tasks, and commitment to see it through.Play Bingos to WIN
Page 189
Page 190
Page 191
Update number 5: If you are keeping score, I missed an update and a few days. That doesn't mean I'm not going to hit the 100 in 100, it just means that some days you are going to see a couple of episodes get posted to get caught up. Getting out of the everyday routine of being focused on the podcasts by going to visit family in Whistler caused some disrup-tion to my workow, but the big disruption is I took a job. One of my guests offered me a full-time contract. As you can im-agine, it resulted in my schedule changing. Whenever there is a change, there is disruption in our routines and our energy levels as we realign and reset our priorities. Podcasting is a lot of work. Being a BrandAPeel guest takes an hour. Being the BrandAPeel podcaster takes anywhere from 3-5 hours depending on the conversation. I've made some mistakes, I forgot to hit record more than once, and luckily the guest found enough value in the con-versation to talk to me again. The sound recording has come out unusable a couple of times and since I'm not a pro at using adobe audition, I can't x it. I've learned that some guests are pros when it comes to speaking and oth-ers, take more editing time, a lot more edit-ing time. Some understand that a podcast is a chance to have a conversation about a topic they are experts in, while others believe it's a chance to sell their product, service, or program. Podcasting is a platform to gain credibility as an expert on a topic, not sell something. These episodes are difcult to edit and take more time to polish into something of value for a listener. I'm over halfway through this 100 in 100 podcast episodes project to quickly build the podcast platform for the Market-APeel platform and in the process, learn as much as I can about this brand storytelling tool and how brands can use it in their brand storytelling funnel. As MarketAPeel continues to move towards being a platform for brand story telling through the blog, podcast, video, digital magazines, and larger digital foot-print... Continue
Page 192
Page 193
Update number 6: I am in Enderby spending Mother'sDay and My Birthday with my parents.Likky Lavji was kind enough to offer a rideup and even helped me try to gure outwhats next as we drove. As Likky askedme questions about what I wanted and howI could get out of the hole I am in - I had tomake some hard decisions and start askingothers for help, a hard thing for me to do. Why I'm looking at What's NextA few newsletters ago, I told you I took afull time contract - It fell apart due to a mis-alignment of values, communication styles,and too much distance. So - I'm lookingfor paying work - yet again. Trying to gureout what the right situation for me wouldlook like. The ride up to the Okanagan withLikky Lavji started the process of deepreection and seeking out help. S TUNED O FIND OUTWHA THE RESULS ARE ANDEVERYTHING I LEARNED INTHE PROCESS OF POSTING100 EPISODES IN 100 DS.

Page 194
Report Errors, Give Feedback, Request Changes.Since I'm a one woman show and a creative - I don't see all the errors and issues. To ensure the problems you see can be xed, I created this form to help keep the requests for xes organized. Thank you for your input.
Page 195
PODCASTINGBRANDINGWRITINGMARKETINGPROFESSIONALS &BRAND SORIESPersonalCAREERS
Page 196
Page 197