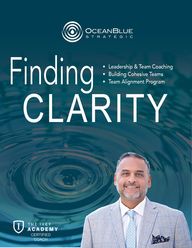 Return to flip book view
Finding Clarity
Page 1
Page 2
OceanBlue exists to help individuals, teams and organizations to act intentionally to achieve the right and most impactful outcome for the challenge or opportunity they are facing in their complex and uncertain context.
Page 3
Page 4
What is Coaching? Coaching is a dynamic se-ries of focused conversations tounlock a person's potential anddevelop their skills and mindsetto maximize their performance Coaches will help you gainself-awareness, clarify yourgoals, achieve your develop-ment objectives, and act as asounding board to help you workthrough your challenge. Your coach will not tell youwhat to do. Instead they willchallenge you to think in differ-ent ways to unlock your poten-tial and maximize your perfor-mance. All coaching sessions arecondential safe spaces.A Coach Supports You
A coach listens intently toguide a deeper conversation by:• Facilitating the developmentand implementation of yournext steps• Being direct and honest ina respectful and non-judge-mental manner• Encouraging you to push out-side of your comfort zone toassist you in exploring yourleadership challenges fromdifferent angles• Is a catalyst to discover yourfull potential to be an effectiveleaderBusiness Coach

Page 5
Whom We HelpExecutives, and Senior Managers
Leaders of smalland medium sizedorganizations who needpersonal or team support tosolve problems, overcomeobstacles, take advantageof an opportunity ordevelop leadership skills.

Page 6
ManagersManagers of small, medium andlarge organizations who are re-sponsible for developing learningand talent management strate-gies along with tactics for individ-uals and the teams in their orga-nizations.
Teams Teams needing support to un-cover problems and nd solu-tions to be a cohesive group inorder to improve performanceand productivity, which leads tobetter results for the organiza-tion.OceanBlue Strategic helps theindividual navigate their way throughboth specic and less denedchallenges and opportunities.One - on - OneCoaching

Page 7
OceanBlue Strategic works with teams to help them improve their effectiveness to achieve a common purpose. Team Coaching
Page 8
Align Teams for 2021 Team alignment is a sys-tem of integrated one-on-one, small group, facilitated team dia-logues, and intersession work to bring clarity to all team members about the organizations needs and to create team cohesion.Personal Coaching Sessions One-on-one discussions with a coach enables exploration of issues they do not feel com-fortable voicing in a group envi-ronment. During the personal coach-ing sessions, individuals will de-velop skills to share their ideas in future group discussions and process their reactions to be-haviours of other team members.Facilitated Group Sessions Facilitated group discussion uncover important issues and re-solve them in a safe, candid and trusting environment. The team will create an aligned understanding and com-mitment to key questions includ-ing but not limited to:Building Cohesive Teams
Page 9
Leadership and Team Coaching Building Cohesive Teams Team Alignment Program Finding CLARITY
Page 10
Team Alignment Every year, leaders need to ensure their teams have clar-ity about the purpose of their department within the organi-zation. Traditionally, this is ac-complished with one or two day planning and team building ses-sions. This year due to the pan-demic, it is not adviable to bring people together in one room, however today, team alignment is more important than ever be-fore. The virtual work situations spawned during the pandemic have some benets, like reduced commute times, increased pro-ductivity, decreased time-wast-ing small talk, increased exibil-ity and for some, a real work life balance. While collaborative tools and video conferencing help teams communicate, it has been increasingly difcult to ensure teams are cohesive and have a clear understanding of objec-tives, expectations, and their results for the organization. Due to the amount of dis-ruption your team has experi-enced this year, they need to
Page 11
Discover the Team Alignment Processreect back to understand what worked, what didn't work, what could have been done differ-ently, and to nd solutions to their unique personal challeng-es. In the past, you brought team members together in a ca-sual social environment to fos-ter connections and build closer bonds. Today, your team mem-bers need to develop these personal connections more than ever before, to overcome feel-ings of isolation. In the past, a facilitator used interactive exercises to connect, discover new ideas, uncover problems and develop new solutions. This year calls for a virtual approach because teams cannot physically be to-gether to complete exercises. Trying to simply replicate past formats in a virtual setting to facilitate team alignment will not be effective due to how people interact virtually and ex-perience screen fatigue. OceanBlue Strategic de-signed a virtual solution to an-nual team alignment sessions, by understanding how people interact with virtual tools.
Page 12
What OceanBlueStrategic DoesWhat We Do Everday, leaders and teammembers focus on their day to daydemands, tasks, and activities, whichimpeed their ability to understandissues and nd new solutions. When teams take the time tocommunicate, innovate, and problemsolve they help the organization tomove forward more effectively. OceanBlue Strategic facilitates-the process and helps teams to imp-liment these new ideas to improve theirproductivity, environment, and pro-cesses.OceanBlue Strategic offers servicesdesigned to help leaders andteams uncover new ways to moveorganizations forward.

Page 13
How OceanBlueStrategic Does ItOceanBlue Strategic's approachis to use tools and techniques toguide individuals and groups to theanswers they possess.

Page 14
Page 15
Page 16
a regional operations manag-er, and co-proprietor of a family business. He taught undergrad-uate and graduate courses in management at the University of British Columbia and Gold Platinum Institute in Russia. As a strategy consultant, he served clients in aerospace, automo-tive, aviation, energy, hospitality, internet and transportation and wholesale distribution industries. Shakeel holds an MBA from the Richard Ivey School of Busi-ness, where he graduated as Class Valedictorian. He immi-grated with his family from Tan-zania as a child, grew up in Van-couver and is currently based in Ottawa, Ontario, Canada."Shakeel is a great thinker, listener, communicator, teach-er and leader. Shakeel is the person whom others turn to when they are seeking inspiration, clear thinking and direc-tion. In addition to being one of the smartest people I have had the privilege to work with, Shakeel is one of the most honourable and sincere people I have ever met."Robert Swanborough, General Manager, Europe, InsuletTestimonial
Page 17
Listen Listenon iTunes on Spotify
Page 18