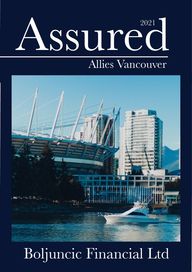 Return to flip book view
Assured Allies Vancouver
Page 1
AssuredAllies VancouverBoljuncic Financial Ltd2021
Page 2
Page 3
Page 4
Page 5
Boljuncic Financial Ltd. works with professionals who share their values to protect the interests of their clients
l
Page 6
Trusted ProfessionalsTammy BoljuncicKen RichardsonKen AddisonSasha VukovicClick Photos to VisitInsurance AdvisorBoljuncic FinancialCorporate AccountantRise AdvisorsCorporate InsuranceNexus Insurance BrokersCorporate LawyerBTM Lawyers
CPA, CGA
Page 7
Install on Your DeviceTyrel BurtonDeb BurnsteinGino MuoioJosko & Suzana KrakenMore to Come...Click the button for detailsAlternatives Funeral andCremationServicesMortgage BrokerRealtorFitness TrainersKraken Training

Page 8
Page 9
Tammy Boljuncic helps peo-ple protect their wealth using, in-vestment, insurance, tax, and estate planning tools. She has a passion for helping others succeed, which drives her to get out into the world to nd someone to cheer for. She has a joy for life, which radiates from her and lls a room with pos-itive energy. Her life's purpose is to support others, help them keep their family's wealth safe, and nd nancial security. Her generous na-ture is at the core of her client-cen-tric approach in business. She goes out of her way to make her clients feel comfortable and safe because she has a mission to protect others, ensure they are protected when vulnerable, and are not taken advantage of by selsh people. When you meet her, you realize it isn't an act, she really lives to provide safety to others because she has a deep seeded need to feel safe and wants everyone to expe-rience the joy of life when they are no longer living in fear. Tammy loves a good contract and reads up on industry prod-ucts every day to ensure she has the information her clients need to make an informed decision. She strives to understand the reasons her clients want to save, protect their families, and their health so she can introduce them to products matching their needs and not the ones that pay her the most. In fact, she doesn't know which insurance companies or products pay higher or lower commissions because that is the only piece of information she skips over when diving into the fea-tures and benets of each insurance product and its contracts. It truly Financial AdvisorTammy Boljuncic
Page 10
bothers her when she sees peo-ple who were sold something they didn't need, didn't want, and didn't ask for when they approached a nancial professional. To protect her clients, it is im-portant to be a resource and have the answers to help them make the best decisions, this takes constant study. She is currently taking the CFP – Certied Financial Profes-sional course to be able to provide her clients with more in the way of answers, products, and solutions for their nancial plans and goals. She takes every opportunity to learn about the industry and all it has to oer in order to serve clients the best options for their situation. If you don't continue to read and learn about all the options, you can't help people with the tough stu, like tax planning. Taxes are complicated and most people nd it boring to read about tax law and how to pay less in tax because it is a complicated always changing part of nancial planning. When she talks to people who don't know how to lower their tax bill and do not have a plan in place to ensure their wealth is protected, she be-
Page 11
comes a crusader to educate them, advocate on their behalf, and bring trustworthy professionals to the table to eciently structure their nancial plan. When she talks to people who fear they won't be able to retire because they won't have enough money to live on, it bothers her. She believes everyone should have the right to retire and aord to take care of themselves. Many people are uncomfortable talking about their nancial health, pension plans, taxes, and estate plans. Tam-my approaches the topics with an upbeat, excited energy because of what these topics mean for a per-son's future security. Don't under-stand your pension plan? No prob-lem, she'll dive in and explain it to you. Don't know how much you'll really need in the bank to be able to walk away from your job? No problem, Tammy will explore what lifestyle you want and how much it will cost. She loves these types of challenges because at the heart of what she is doing is helping people nd security and joy in their future, which is her purpose in life. ere are many reasons why Tammy loves the insurance and investments industries, when it comes to a personal reason it is all about the numbers. She prefers Living with Purpose
Page 12
insurance products and segregat-ed funds because of the certainty they oer her clients and the lower risk when compared to other in-vestment vehicles. Her approach is to secure what you have rst and then decide if you can aord to take higher risks with your family's wealth. She prefers working with cli-ents who work hard, have saved some money, built wealth through real estate or business, and need a way to protect their family. People who want guarantees, who want to feel secure, and know what they will have in the end are her ideal clients. Boljuncic Financial LtdWe are Passionate about People and believe everyone has valueWe ensure our clients are taken care of, protected, and secureWe value family because they are why we do what we doWe are always learning because knowledge helps peopleWe value integrity and hard work so we can take care of peopleWe give back because we want to support othersWe are honest and straightforward because we want to be trustedWe are grateful for all the blessings life has bestowed upon usWe Care about Your Future
Page 13
PodcastEmbed Podcast here
Page 14
TrustedAdvisors

Professional Brand Stories
Page 15
Tammy Boljuncic trusts the following profes-sionals to help her clients because they have a customer rst approach in their businesses. They are amazing business owners who are honest, knowledgeable, and provide full service solutions.On the pages you will nd the following icons: Click to play a video to learn more Click to download PDF handout Click to visit their websites Click to email them Click to phone them
Page 16
Sasha VukovicCorporate Lawyer Sasha helps his clients with their real estate transactions, setting up the legal structure of their businesses, and estate planning. As a lawyer, he is driven to help people get what they want by bringing all the pieces of a transaction togeth-er and ensuring his clients are properly protected. When meeting with clients, he listens to understand their vision and asks questions to get a better handle on their situa-tion, so he can present a plan which will ensure goals are met, assets are protected, and an exit plan can be implemented smoothly. After all, it is cheap-er and easier to set it up right than it is to x a legal problem after the fact. He enjoys being a solicitor and working closely with his clients to set the foundation for a clear understanding of expec-tations, responsibilities, and the desired outcomes for all parties involved. Whether it is buying or selling a home, setting up a business, succession or estate planning, he nds every day presents an interesting chal-lenge to tackle. Sasha earned a Bachelor of Business Administration from Simon Fraser University before completing his Law Degree (with a corporate concentra-tion) at the University of British Columbia. His passion for busi-ness, economics, and law made a career as a corporate lawyer the perfect choice.
Page 17
Page 18
Page 19
Page 20
Corporate InsuranceKen Addison Ken Addison built a corpo-rate insurance rm, which lls the gap in the market by ser-vicing companies between the $500 000 revenue to the $100 million in revenue businesses, while providing the profession-al service Enterprise companies are used to getting. Nexus Insurance provides their clients with a strategy to ensure they are covered for any eventuality, while making sure they are not paying too much for insurance they don't need. As a business owner, Ken understands costs need to be managed and taken into con-sideration when making a buy-ing decision. At the same time, as an insurance professional, he knows how important it is to have the right coverage for your unique situation, which can change as your company grows and expands. He started Nexus be-cause he wanted to work in a non-transactional environment with experienced professionals who put the client rst and are open to working as team. Nexus has a home insur-ance department with profes-sionals who are dedicated to understanding homeowner and vehicle needs. They work close-ly with the commercial depart-ment to provide full coverage protection. By specializing in certain types of insurance, team members possess a deeper knowledge base and can pro-vide a strategic approach by understanding all the solutions available.
Page 21
Page 22
Page 23
Funeral ServicesTyrel Burton Alternatives Funeral and Cremation Services provides families a personalized expe-rience to celebrate their loved one's life without the pressure sales of a showroom. The staff meet with fami-lies in the comfort of their own homes to answer questions and offer guidance to help them or-ganize their vision of end-of-life arrangements. Alternatives has the free-dom to give families the exibili-ty of a gathering anywhere they feel comfortable, access to mul-tiple locations, ability to arrange a cemetery burial or cremation services. They have structured their organization to be less structured than their competi-tors and put the family's needs rst by removing sales staff in favour of offering choices and nding solutions to integrate the family's traditions, culture, and religious ceremonies into the process. In other words, they are not constrained to one loca-tion, building, or cemetery. Funeral planning is one of the many services Alternatives offers to help make the process for families easier. By planning your funeral ahead of time, you remove the pressure of deci-sions on your loved ones, so they can focus on supporting each other. It also removes any conict which may occur due to grief over decisions such as, where your resting place will be. When you meet with an Al-ternatives representative, they will provide you with information to help you write a plan, which will make it easier for your loved ones to complete your wishes.
Page 24
RealtorGino Muoio Gino found his passion for negotiating deals for cli-ents over 30 years ago when a friend told him how much he enjoyed being a Realtor. Gino quickly discovered being a Re-altor is a lifestyle with unusual hours, changing rules, and a community reputation. He chose to focus on the area he grew up in and became an active member of the North Burnaby community to foster relationships and be a person who strives to improve the lives of others through relationships. His purpose as a Realtor is to guide people through the process, negotiate on their be-half, and protect their interests during the transaction. He's there to listen, understand, and inform his clients to help them make better decisions. Gino is always staying up to date on the legal, market, and commu-nity changes to ensure he has accurate and honest informa-tion to share with people. In today's world of web searches and social media, Gino still believes in hitting the pavement and making real world connections because he understands buying and selling a home is more than a transac-tion, it is a relationship. His clients know him be-cause they see him working in North Burnaby and he has strong relationships with people who refer their friends and family to him. Gino has over30 years of serving others in North Burnaby and his efforts have built him a reputation as an honest and dependable Realtor.
Page 25
Page 26
Mortgage BrokerDeb Burnstein Deb Burnstein loves a good spreadsheet and enjoys helping people make the best decision between their nancing options. She provides her clients with solutions by taking the time to understand what they want and which lender will nance their dream. Buying a home, especially a rst home, can be stressful. When going through the process, one can get overwhelmed by all the requests for information, the looming obligations outlined in the contracts, and all the paper-work they are required to sign. To help her clients, Deb explains all the details and nuances of their nancing options and com-municates the underwriter's re-quirements to ensure everything is submitted in time. Buying a home is exciting and overwhelm-ing, which is why having trusted professionals to help guide you through the process is so import-ant. Seniors can face a predic-ament when they want to stay home but need homecare sup-port. Suddenly, their expenses go up, yet their income remains the same. Deb helps seniors re-move equity from their home to increase their liquidity to make staying home a possibility. Mortgage Brokers are ad-vocates for their clients, so they have to be able to listen and ar-ticulate as a mediator between the client and the underwriter. Deb asks her client's questions to understand what they want, what they need, and any road-blocks in their way. Ensuring the client is happy is her rst priority.
Page 27
Page 28
,The KrakensPersonal Fitness Trainers
Page 29
,The Krakens Josko and Suzana Krak-en are personal trainers who help clients transform into tter versions of themselves. Their clients are looking for someone to guide them through workout routines, teach them how to use the equipment, and hold them accountable. The Krakens love seeing the transformations in their clients. Both of the Krakens are nat-urally active people who can't sit still and love competition, you won't nd them sitting behind a computer spending hours on end social media. As much as they are alike, they bring their different personali- ties to the gym. Josko is a award winning competitive body builder who inspired Suzana to try to become stage ready and compete. She won top honours her rst time out to join Josko on the podium. As a competitive high- achiever, Josko loves working with other high-achievers who want to continue to outdo them-selves. When Suzana joined his company, they were able to pro-vide their clients joint sessions. While Josko trains a client, Su-zana trains the client's partner or spouse. Each has their own per-sonal approach to building rela-tionships with their clients, which works well for many couples. Josko started the business after being a lifeguard for seven years and Suzana hired him af-ter University when she reached out to her childhood friend to ask him for help. His guidance trans-formed her from an unhealthy student to a healthy young wom-an. Her transformation was so amazing, many of her friends and family hired Josko to help them meet their tness goals. His personal training busi-ness grew, along with their rela-tionship and they were soon mar-ried and going into business together.
Page 30
Protecting your FamilyBoljuncic Financial Ltd
Page 31
Protecting your businessBoljuncic Financial Ltd
Page 32